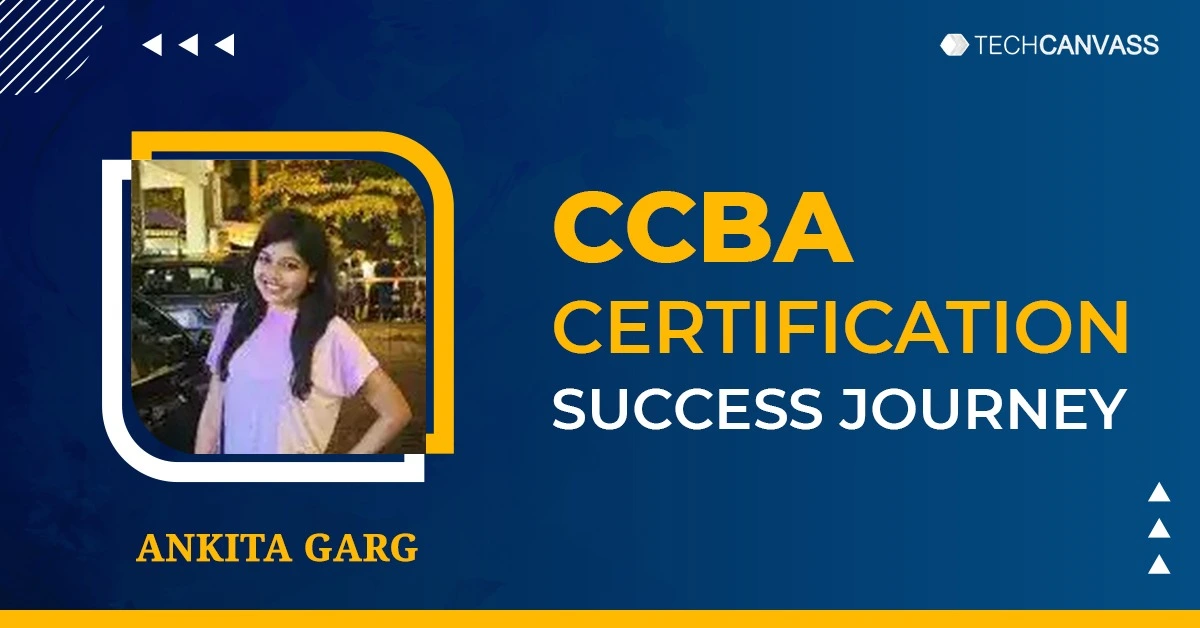 In another episode of Our Interview, we bring to you Ankita Garg's Success Story and how she cleared CCBA Certification after preparing for two and a half months. This story will inspire you and give you immense motivation to work hard for your certification journey.
We know CCBA Certification is considered to be pretty challenging for every business analyst but with the right guidance and understanding, it becomes a cakewalk. For your upcoming BA Certification Preparation, Techcanvass is always there to help you. You can surely explore our various CCBA certification Courses and training material to analyze the competency and authenticity of our courses. To enroll and discuss further, contact us.
So let's move ahead and understand the Success Journey of Ankita Garg, a CCBA-certified SAP functional consultant.
Background
Ankita Garg has recently cleared the Certification of Capability in Business Analysis(CCBA) from IIBA. She is currently working as an SAP functional consultant with ITC infotech. She holds a total of 6 years of experience, and prior to ITC infotech, she has worked with several companies like Capgemini, Citiustech, Pragathi infotech, etc. Apart from her work life, she is a very easy-going person, believes in spirituality, and also likes playing badminton.
When Did She Decide to Opt for CCBA Certification?
She decided to appear for CCBA Certification in October 2021. There was a pretty apparent reason why she wanted to appear for CCBA, and following it, she mentioned,
So as we know in IT, apart from knowledge, certifications are really a cherry on the cake. So, considering my years of experience, I opted for CCBA because I have 6 years of experience, and that is the right option to opt for.
Ankita Garg's Preparation Plan
Initially, it was quite challenging for her. She completed her training from Techcanvass in the month of February last year. But because of her work life and personal commitments, she couldn't continue with the preparation at that time.
So, she started her Preparation in August last year, took around two and a half months, and finally decided to give the certification in October last year.
Hurdles During the Preparation Time
There were a few hurdles that she faced while preparing for the CCBA Certification. A couple of times it happened when she was Solving the Mock Questions with her instructor Mr. Satheesh. The score used to be very less as compared to what she was expecting. It was not only her but everyone in the batch who faced the same issue, she mentioned. She used to feel like, okay, it is a very difficult exam, and how will she crack it.
So, everyone used to feel demotivated. And the second time when she was actually given the Mock Session which was given by Techcanvass that time also she used to score not more than 50-55%, so that was again demotivating for her and reduced her confidence.
But then she used to talk to her instructor, and he used to suggest she keep giving the Mock Session, and gradually the score would improve, and it happened the same way.
So, just the week before the exam, Ankita used to get like 70-75% in the mocks and that is how it boosted her confidence again.
Mental State During the Exam
Ankita says she was nervous on that day. Lots of thoughts were lingering on her mind as to what will happen, what will be the level of difficulty of questions, and so on. But then she kept herself calm and compose nature on and thought that by hook or by crook, she had to clear the exam. And that is when she focused on the questions and did it.
Life After Cracking CCBA Certification
She spoke about how every opportunity became fruitful for her after completing the CCBA certification. Getting a certification has definitely boosted her confidence, plus she has a thing certification to add to her resume, which will surely help her while switching the job.
Tips and Tricks for Aspirants
She gave several complementary tips and tricks for the upcoming aspirants. According to her, knowing "why" you want to opt for certain certifications is very necessary. Apart from this, you should also know the motive behind the particular certification.
The three major components that she mentioned to clear any certification are Focus, Hard work, and Right Mentorship. Ankita says, if anybody is scoring 70-75% in Techcanvass Mocks, then it will be very easy for them to clear CCBA certification. The level of difficulty of questions in the actual exam is way less than that of Techcanvass. So in that way, it will help you.
How Did She Find Techcanvass Helpful During the Preparation?
According to her, these three components were provided to her by Techcanvass. She adds to it and says,
Not only the training team but the training instructor, Mr. Satheesh, and the admin team. I would specially mention Nazni and Brijesh, who were always there to help me out. The entire faculty was, you know, very supportive; they used to guide us, they used to give us the tricks which were very helpful and of immense help to clear the training. The LMS portal and the training material which was provided by the Techcanvass team were of really great help and especially to mention, the level of difficulty of questions was such that although they will demotivate you, then they were of great difficulty.
Conclusion
She concludes the discussion by saying,
I recommend everyone to join the Techcanvass series and the training material. It is of great help. And I wish everyone the very best of luck who is aspiring to become a business analyst and taking the certification exam.
Techcanvass becomes one of her standing pillars while she was preparing for her exam. Our profound mentors are experts in their field and bring knowledge to the table. To accelerate your career, you can take CCBA certification training and enhance your practice with us.
Apart from this, we also provide CBAP Certification Training in the BA domain which will help you in getting a deeper knowledge of the exam and subject.
The post Ankita Garg's CCBA Certification Success Journey appeared first on Business Analysis Blog.
* This article was originally published here