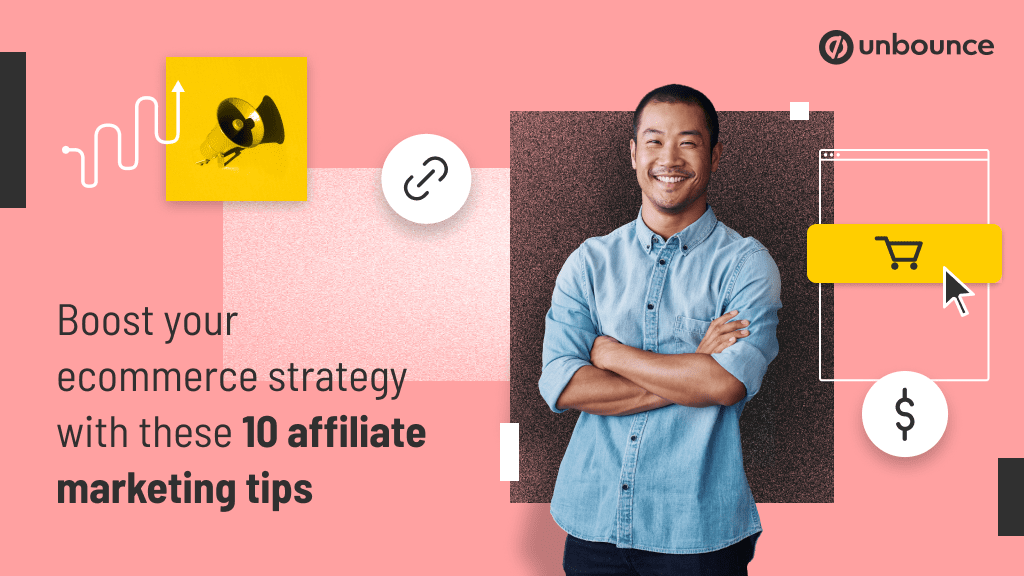 Affiliate marketing has been growing in popularity over the past few years. For 20% of marketers, affiliate marketing is now their most important stream of revenue.
So if you've got no idea what affiliate marketing is, it's time to brush up on your knowledge, as you're sure to be missing out on valuable additional sales!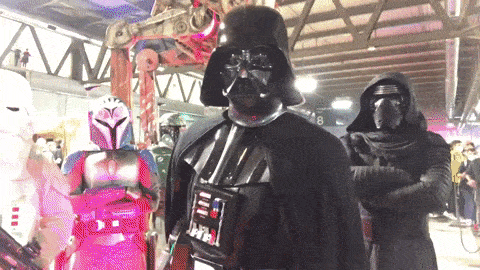 Affiliate marketing is growing so fast 'cause it brings many benefits—such as increased revenue and traffic—for businesses. This is especially true as consumers move towards valuing word of mouth and social proof over the company's word.
Many marketers are turning to affiliate marketing as a way to generate more leads and sales with less effort. In the UK, 63% of leading companies stated they used this strategy.
As long as your affiliate marketing program and campaign are configured correctly, it can be a great source of cost-effective passive income for a business. But what exactly is affiliate marketing?
What is affiliate marketing?
An affiliate is an individual or company that markets products or services of another party. They are paid a commission for each sale they make, a percentage of sales, a flat fee, or both.
Affiliate marketing refers to an affiliate or third party promoting a merchant's products or services for commission rates that serve as additional revenue.
Online retail might come to mind when you think of ecommerce affiliate marketing and, as expected, several ecommerce stores and tools utilize this strategy.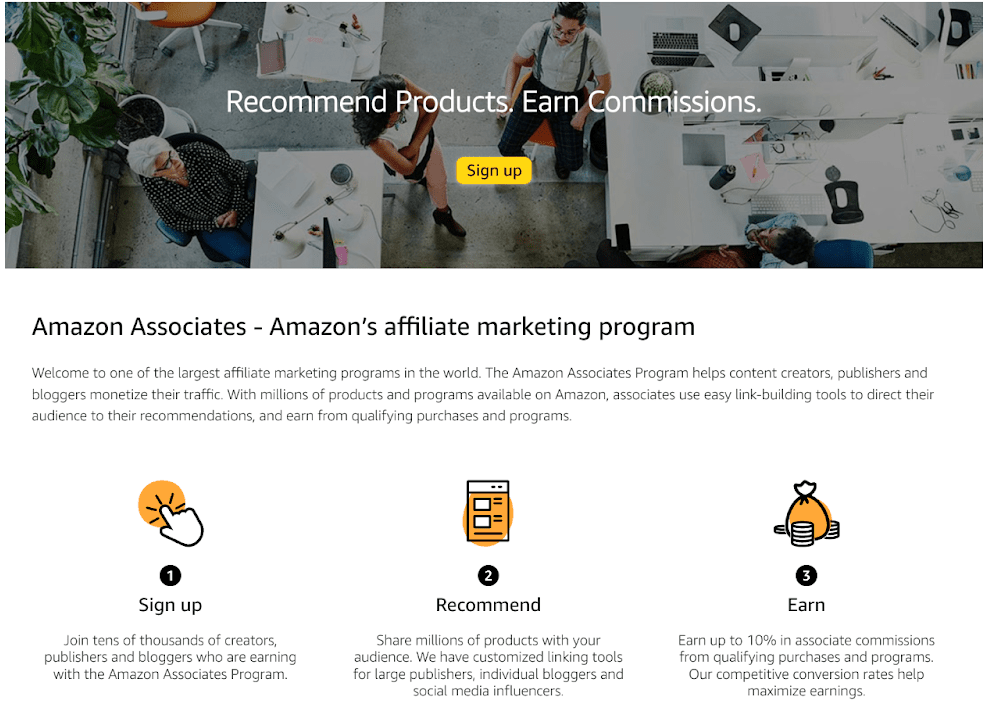 Source:
Amazon
Here's how affiliate marketing works in ecommerce.
Content creators provide affiliate links: When you're an affiliate marketer, you need to create good content and place a few links to your merchant site in relevant places.
Customers click the links: If a customer clicks on an ad from your website, the affiliate link you placed in the content tracks the click for any sort of social proof.
The affiliate marketer is credited and receives payouts: When someone who is an affiliate marketer refers a customer to a merchant, and that customer makes a purchase, an affiliate marketer receives payouts from that merchant.
Affiliates get varying affiliate commissions based on how much business they send your way and what you have agreed upon in the contract. There are a number of different ways to structure these commissions, but here are a few of the most commonly used ones:
Pay-per-click (PPC): Merchants pay their affiliates a small commission every time someone clicks on an affiliate's link.
Pay-per-lead (PPL): Affiliate marketers get paid based on how many leads they send to a merchant.
Pay-per-sale (PPS): This commission structure rewards affiliates for each sale they drive to a merchant's website.
So you wanna be an affiliate? It's possible for anyone with a computer, web browser, and Internet connection to get involved in affiliate marketing. Most affiliates use email lists and social media to promote their online business partners' products or services. You don't need to have a product or service to become an affiliate.
Types of affiliate marketing
Affiliate marketing consists of three main types: unattached, related, and involved. Each type has its own unique characteristics, as discussed below in more detail.
Unattached
In this type of affiliate marketing, you don't possess any connection to the company or product you promote. Instead, you're an independent contractor for various affiliate programs.
Related
This type of affiliate marketing is where you promote a product from another company and receive a commission if someone buys that product through your link.
Involved
As the name suggests, involved affiliate marketing is all about working in a direct relationship with a company or a retailer. You're not just promoting their products or services but also representing them to an audience.
What are the advantages of affiliate marketing?
Affiliate marketing is quickly becoming one of the most popular forms of marketing, and many people are jumping on board. As we stated previously, affiliate marketing is now the most important channel for 20% of brand marketers, this is more than paid ads, influencer marketing, and retail advertising. While 52% of marketers stated that affiliate marketing was one of their top three most lucrative revenue streams.
Here are some of the key benefits of affiliate marketing for ecommerce businesses.
It's a cost-effective strategy
Since you aren't paying for ads, there's no additional revenue cost in bringing more traffic to your site. All you need to do is have amazing products and a well-set-up affiliate program. You can then let another company or person do all your advertising for you without having to pay.
When people visit your landing page or website, they'll see products related to what they're looking for. Many will click on those links and make purchases. You only give your affiliate a commission when a user converts.
You get a high return on investment (ROI)
For ecommerce businesses, affiliate marketing campaigns are a great way to drive sales and earn additional revenue. It's also a low-cost investment that can lead to high returns.
For affiliates, it's an easy way to make money online without having your product or service to sell. The cost of setting up an affiliate site is minimal compared with other forms of online business advertising.
Your profits are directly related to how much effort you put into promoting an affiliate product. The more successful you are at driving sales, the higher your ROI.
You generate more traffic
While affiliate marketing campaigns can offer significant revenue streams, their real value comes from generating more traffic to your website or landing page.
When visitors click on one of your affiliate links and purchase a product, you receive a commission. Affiliate marketing will help you meet your business goals by creating opportunities for sales by driving more traffic to websites.
Your traffic is targeted
When you build a marketing campaign, there's usually a set amount of traffic you want to drive to your page. You only pay when someone clicks on your ad.
That means your ads target people interested in what you have to offer. Since you're targeting people who already know about and understand your product, it's easier to convert them into a customer base. To identify your target audience, conduct research and analyze your market.
You improve your reputation
Let's say your affiliate partners are influencers or industry leaders: Having them talk about your brand and push your products also gives your brand credibility. When you pair your brand with people who have sound values that align with yours, you reinforce your brand's appeal to consumers and improve your reputation.
Brand recognition increases
If you're launching a new brand, affiliate marketing is one of the best tools to spread awareness and increase visibility. If you have a more established brand and have been in business for years, affiliate marketing can help you reach a larger chunk of your intended customer base.
Backlinks provide better SEO
Good quality backlinks are a cornerstone of search engine optimization (SEO)—and affiliate marketing programs provide opportunities to build them. Just link out to other people's content, and they'll do the SEO work for you (as long as it's relevant content that people find attractive).
Every time your affiliate partner places their unique affiliate link on their website, in a blog post, or on their social media, that's an additional backlink for you!
Instead of marketing your products or services directly to your target audience, affiliate marketing exposes your business to a broader audience.
Affiliates sell their products and services to anyone who is in a position to purchase them. It could be beneficial if you want to get more exposure for your brand.
It's low-risk marketing
With affiliate marketing, you don't need to spend lots of money on promoting your products across various channels to reach your target audience. Your affiliates do that for you. You also don't need to invest money into a store to house and display your products, as they'll be displayed online instead.
This makes affiliate marketing an ideal way to start selling online if you're worried about the potential risks involved in ecommerce.
You can increase your conversion rates
When done correctly, affiliate marketing allows you to be a product expert in your niche. Your website becomes an outlet to communicate with potential customers about products and make affiliate sales.
You'll have more people clicking on your ads and, therefore, more potential customers. If somebody purchases something, they're more likely to return for another purchase, which increases conversion rates.
10 Tips for getting the most out of your affiliate marketing strategy
The following tips will help you make the most out of your affiliate marketing campaign strategy to generate sales and establish credibility for your ecommerce business.
1. Choose the right affiliate partners
Don't allow just anyone to become your affiliate partner: Doing this may dilute your brand message and strength if the person doesn't align correctly. To choose the right affiliates, you first need to understand your customers and their profiles, and you need to make sure that the potential affiliate relates and has access to this audience.
2. Optimize your landing page to increase conversions
Conversions will be higher if visitors find what they want on your site and can efficiently complete their desired action. A landing page that stands out from your competitors will help you convert visitors into customers and get more money in your pocket.
Luckily, there are lots of tools, just like Unbounce, that allow you to build high-converting landing pages.
3. Perfect your affiliate landing page
Your affiliate landing page is the place where people will end up if they're looking to become one of your affiliate partners.
Website visitors will form an opinion of your landing page within half a second, so there is no room for error. Ensure the page is eye-catching, loads quickly, contains all the relevant information they need, and makes it easy to sign up.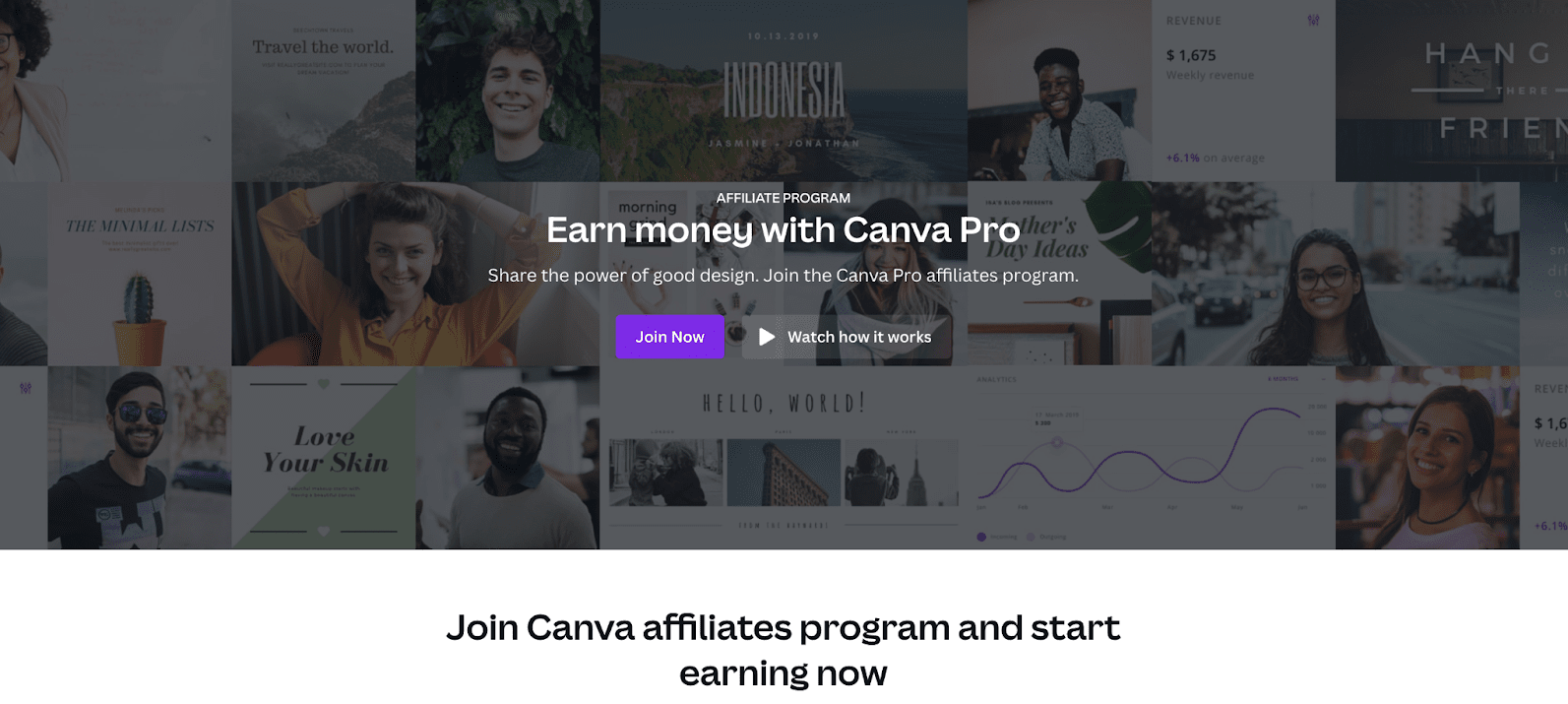 Source:
Canva
4. Use influencers as your affiliates
Make sure to use influencers in your niche as your unlimited affiliates. These have established themselves as thought leaders and opinion leaders in your industry. Influencers are your best chance at reaching a maximum number of people.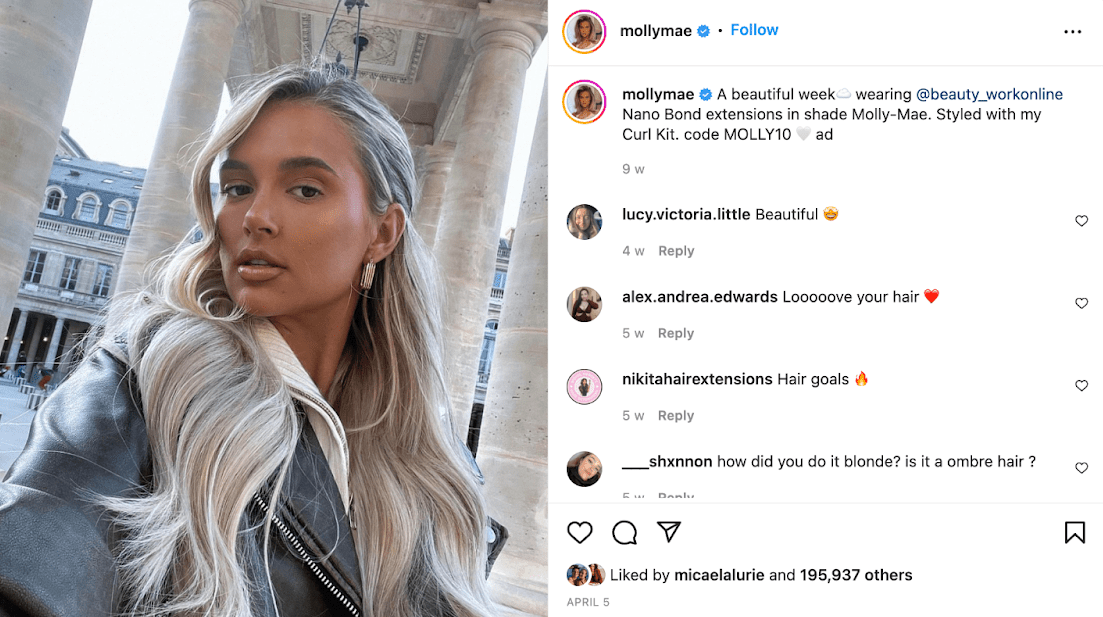 Source:
Instagram
5. Offer a discount deal
Discount deals are good business practices for ecommerce affiliate programs. They're a great way to build long-term business goals with customers who will continue buying your products or services. Offering discounts also increases the chances of a visitor converting into a customer.

Source:
Unbounce
Editor's note: Wanna join our affiliate program? You can earn 20% of the recurring revenue for every new customer you refer to Unbounce. Plus, your referrals will get an exclusive 20% off their first three months.
6. Have a clear call to action
If you want to generate leads, you must provide potential affiliates with actionable items they can take away from your content. A call to action, such as "click here to share," "learn more," or "visit our website" helps consumers realize what you are expecting from them.

Source:
Unbounce
7. Track your success
Whether you've got one product or 100, a single affiliate partner or a dozen, it's essential to track your sales insights. You can monitor which products and services are selling the best and which of your affiliate partners are selling the most.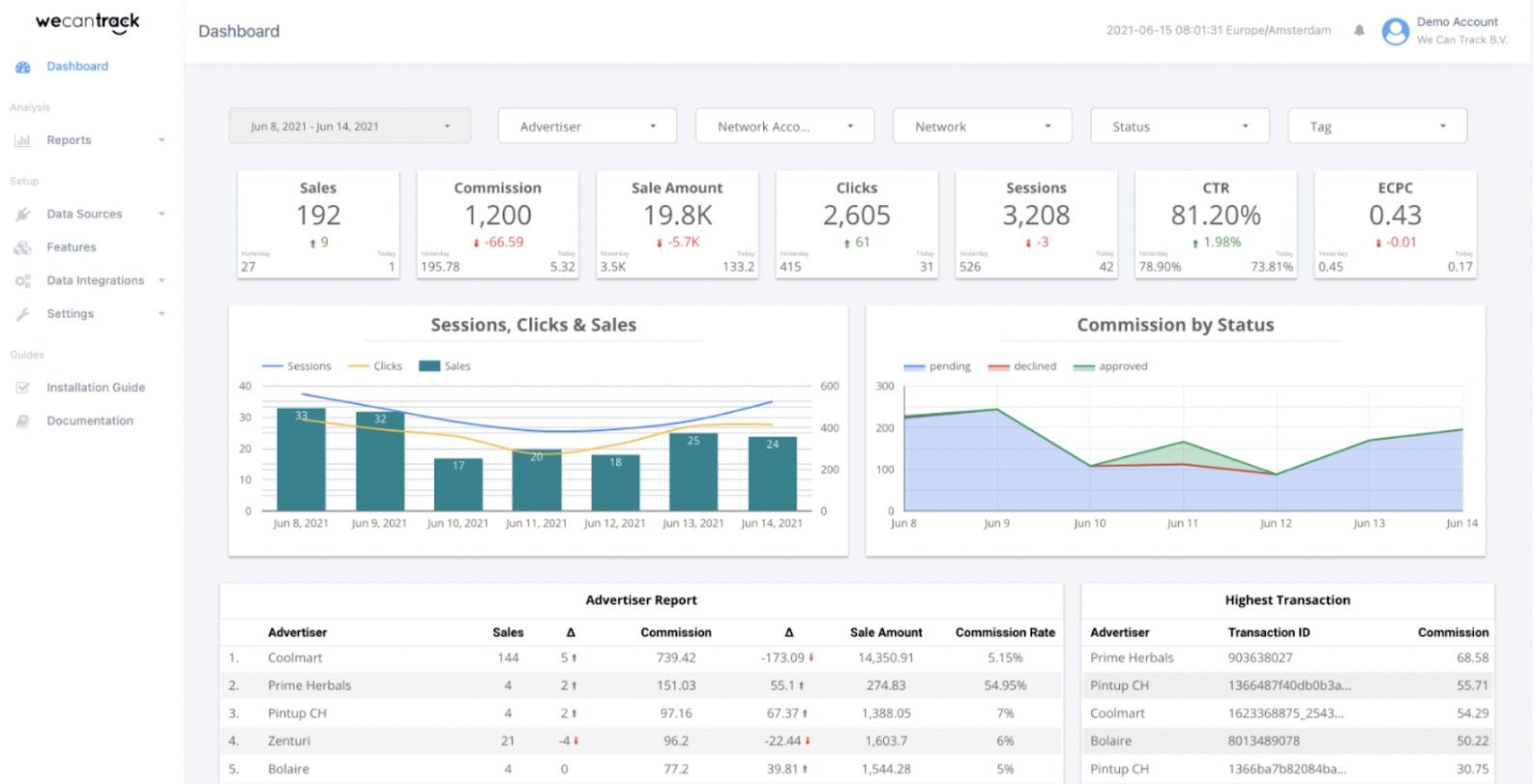 Source:
WeCanTrack
8. Build a robust and diverse affiliate network
You should be working with multiple affiliate partners—as long as they are relevant to your niche—so your products and services get the widest possible reach. The more diverse your affiliate network, the more types of people you're open to.
9. Craft the perfect affiliate recruitment email
You've gotta send out an that gets attention. Your email outreach serves to clarify what affiliates will gain from participating in your email marketing affiliate program. The more personalized your email, the more likely you are to get a positive response.
A reputable ecommerce affiliate dashboard will save you time which will help you in maximizing your efforts. Affiliate marketing tools help you track your affiliates' success and monitor how much money each of them is bringing in.
Luckily for you, there are many affiliate marketing tools out there, such as: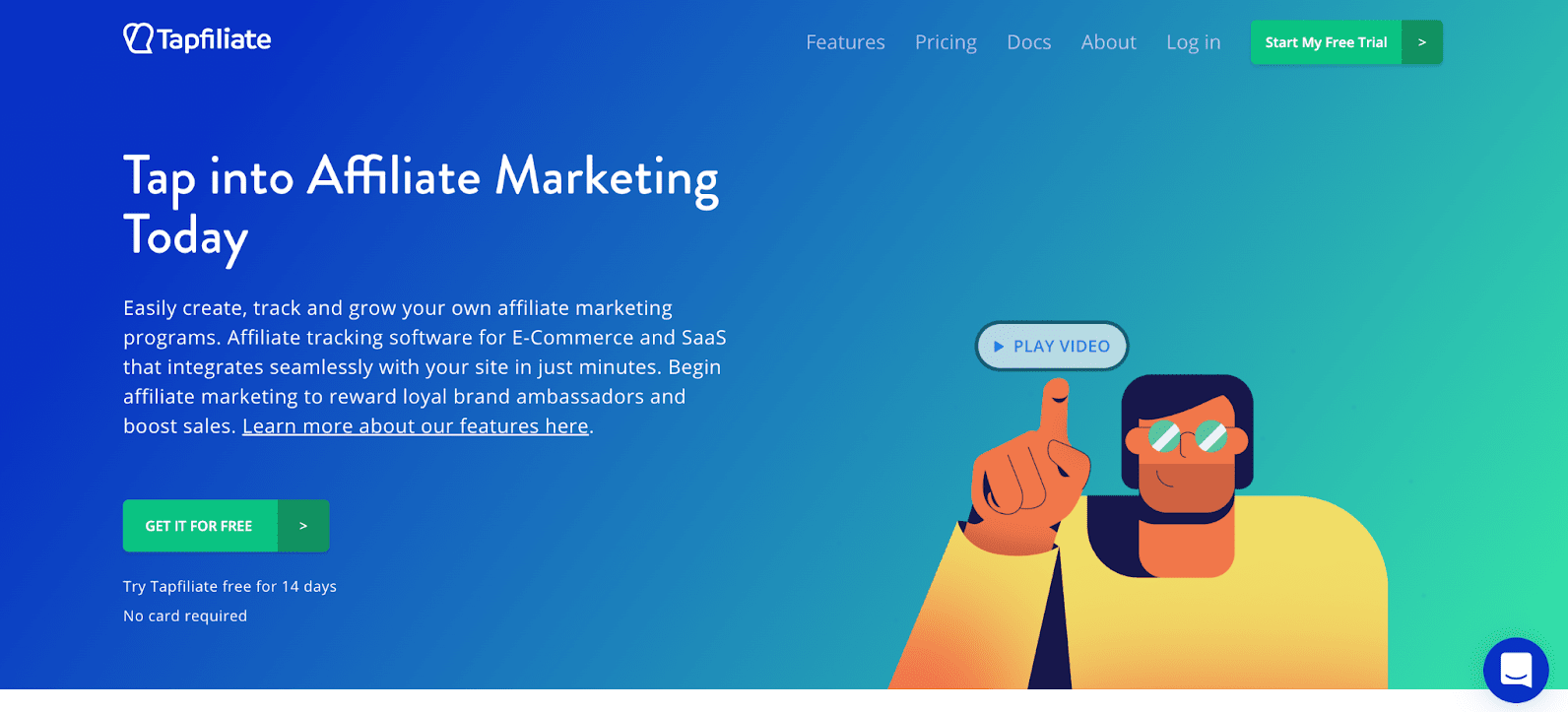 Source:
Tapfiliate
Partner with affiliate marketing to boost your ecommerce strategy
Affiliate marketing could be your answer if you're looking for an easy and rewarding way to passively make more sales and drive more traffic for your ecommerce business.
Consider some of the tips we mentioned as you build your affiliate marketing campaigns to get the most bang for your buck.
Three of..
* This article was originally published here