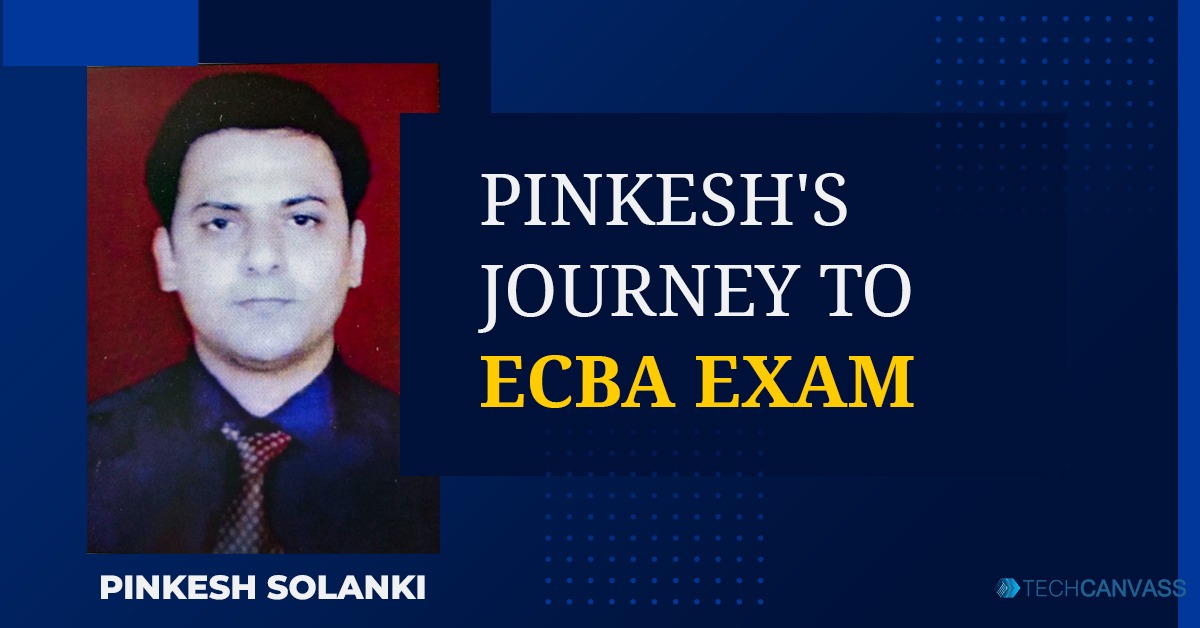 In this guide, we will learn about the successful journey of Pinkesh for becoming a Business Analyst from a Non-IT Background. He was inclined toward the Business Analysis role and wanted to pursue it. Let's see how he was able to become a Business Analyst.
Before we head into the blog, you can check out the ECBA Certification Training Course if you are looking to spearhead your career in the Business Analysis domain. ECBA is an entry-level business analysis certification for professionals who do not hold enough business analysis domain experience or just want to kickstart their business analyst journey.
The ECBA Certification Training Course involves proper training sessions conducted by certified instructors and industry experts. Moreover, you will get access to mock tests, mock questions, interview preparation sessions, and much more.
Professional Background
Pinkesh Has a Commerce Background, and after that, he was looking for a job in accounting. However, he could not find any accounting-related roles. And this is when he joined an IT company as a back-end operations associate.
What Motivated Him to Take Up The ECBA Certification?
While working for an IT company as a back-end operations associate, Pinkesh realized that he wanted to grow his career as a Business Analyst. The seniors at his firm guided him to take up the Business Analysis career path. There were a few Business Analysts in Pinkesh's organization, so he would go and try to learn about the Business Analysis processes from them.
This is when he decided that he wanted to pursue a Business Analysis career and realized that he would need some sort of a Business Analysis certification to further hone his skills and knowledge, and this is when he came across the ECBA certification.
How Did He Come Across Techcanvass?
Pinkesh worked in the IT company for one and a half years. However, due to his mother's health issues, he had to leave the company. After five months, Pinkesh started his job search in the IT company, but now in the Business Analyst role.
Unfortunately, Pinkesh could not get into a Business Analyst role and this is when he decided to work in a CMO as an accountant for 1.5 years and then as a back-end operations associate for again 1.5 years. During his work in the CMO, he came across IIBA and then later found Techcanvass, where he enrolled in the ECBA Certification Training Course.
Challenges Faced by Pinkesh
The major challenge faced by Pinkesh was during his interview phase when he was rejected because he is not from a technical background and rather a commerce background. However, Pinkesh was always focused and did not mind being rejected even a hundred times before he could work in his dream role of a Business Analyst.
Changes After Successfully Becoming A Business Analyst
With the passage of time, Pinkesh became a training Business Analyst and earned his ECBA. He is successfully working in Show Prep India Private Limited as a Training Business Analyst. Pinkesh is completely enjoying his life as a Business Analyst as he is able to contribute his skills and abilities to help out in operations, gap analysis, RC analysis, and other Business Analysis-related processes.
Tip to Become A Business Analyst from A Non-Tech Background
A few tips and advice shared by Pinkesh to aspirants who are looking to build their career in the Business Analysis Domain. The first thing that Pinkesh preaches and tell is to always believe in yourself and never give up. That way you can achieve your goals one day. If not today, then maybe tomorrow or the day after that. It took about 3.5 years for Pinkesh to become a Business Analyst as he never gave up. Similarly, you can do it too.
The second thing that Pinkesh advises the aspirants is to gather the resources and start learning about the Business Analysis domain as knowledge is available freely on various platforms like LinkedIn, Youtube, and Google, and you can also get Business Analysis books to further hone your knowledge.
One additional option is opting for an Entry-Level Business Analysis Certification. One entry-level certification that we mentioned at the start of this blog is the ECBA Certification.
Conclusion
We hope this blog was inspiring and motivated you to stick to your dreams and goals no matter the obstacles faced in life. Pinkesh's Success Story is an inspiration for all aspirants that you can achieve things if you believe in yourself.
Do you wish to kickstart your career journey in the Business Analysis domain? Discover the ECBA Certification Training Course, where you will get access to complete training, BABOK drills, mock tests, mindmaps, and so much more.
The post Pinkesh Success Story: His Journey to Becoming a Business Analyst appeared first on Business Analysis Blog.
* This article was originally published here