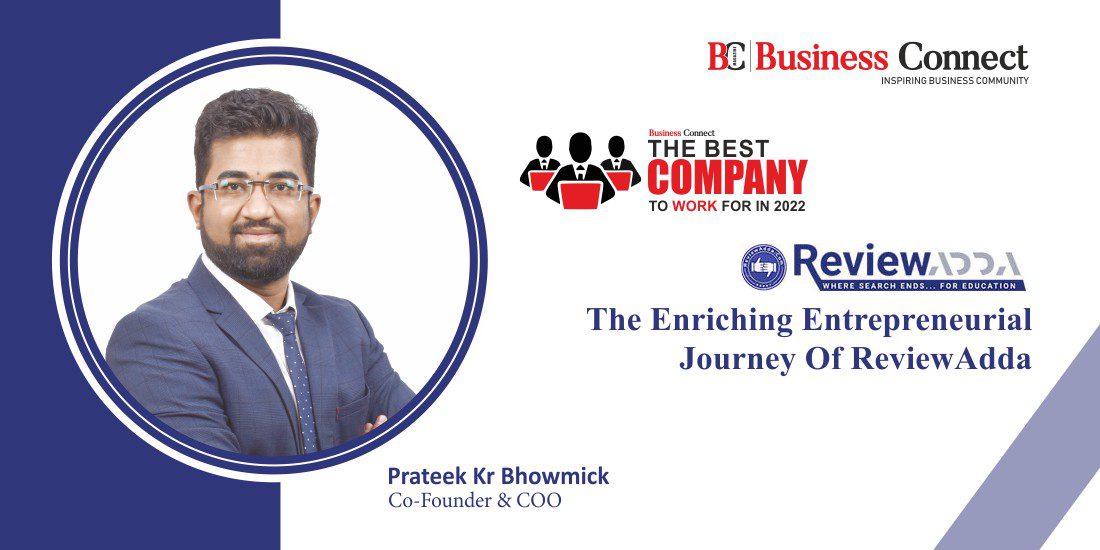 ReviewAdda
The Enriching Entrepreneurial Journey Of ReviewAdda
The brainchild of Co-Founders Prateek Kr Bhowmick and Rahul Jain, ReviewAdda was established in 2015 as a "Digital Platform for College Admission" company, with an aim to create a network of aspirants and alumni to help make the drawn-out admission processes easier on the candidates. Having worked together for the last seven years, the founders have successfully placed more than 36,000+ admissions in premium & under-rated Indians colleges and universities. The company has, at this point, 3,200+ Partner Micro-Coaching Institutes/Tutors that work with them as guides and influencers from Tier-2, Tier-3, and small towns in India.
About The Co-Founders
Formerly one of the founding team members of Vriti, India's pioneering ed-tech startup backed by Intel Capital & Jafco Asia, Prateek has had a foot in the business since its early days. It was there that he met Rahul Jain, an entrepreneur with a business background but a core belief in technology. Together the two of them have a combined experience in tech, funding & operation in the Ed-tech Sector.
They embarked on the entrepreneurial journey together with ReviewAdda, after continuous discussions and a well-researched idea. They have made ReviewAdda what it is today, working with a team of dedicated core-founding members, the two have had a close relationship through the years, challenging each other and respecting each other's decisions, always prioritizing what's best for the company.
At the time of inception of ReviewAdda back in 2015, the two founders did not even have proof-of-concept and platform. It was just on the pen-paper-based idea stage with strong data points & analytics, and there was a lack of investors willing to take a risk with young first-time entrepreneurs They were then referred to connect with Ultra Media (India's Largest Film Distribution House), who met with them in Mumbai. It only took one meeting for them to believe in their vision and value, and they ended up investing an amount of INR 1 Crore as Seed Funding.
That happened to be the first breakthrough moment in the entrepreneurial journey. Ultra Media played a very important role in giving a direction for their growth–not only in numbers but in profitability, too. A beginning like this helped them sail through the unprecedented and uncertain times of the pandemic as well.
Of the company, they feel the proudest of their fundamentals and core focus. Despite being advised by many to make a shift towards international admissions, they refused to stray from the path they had chosen. Believing it to be a commodified and competitive market that does not match with their interests, they have left it to the many great advisory firms in the study abroad segment.
Core Values
India has huge scope in the Domestic Admissions market, about 8 million students take admissions in 1,000+ universities and 40,000+ colleges every year. ReviewAdda is focused on domestic admissions, and is yet to capture even 1% of the market. Prateek and Rahul are personally focused on the ultra-premium admission market in the higher education sector. The last-minute seats in the premium and underrated colleges & universities are often missed by the students due to a lack of advice and counseling.
The education admission sector overall is changing quite dramatically. In universities or colleges within the family-owned universities, educationists were first-generation entrepreneurs with prior experience in other sectors. These days, the next generations of their families are adopting technology, processes, and great minds and people. For example, there is now a trend of using SaaS-based CRM/IVR, converting from a hierarchy-based, people-oriented approach to a process-oriented approach. This has led to an influx of great professors and teams from IVY-League Colleges, IIMs, IITs, and DU, which is extremely opportune.
Prateek says, "I fundamentally believe in hard work with smart work, perseverance, resilient, positive & spiritual energy and the last luck factor." With well-planned ground research strategy and execution as his forte, he has invested himself entirely in this enterprise. Apart from ReviewAdda, he invests his time in early-stage startups, and if opportunities occur, loves doing some small investments in those startups. His theory for investment and mentorship in startups is to learn fast from the mistakes. He deeply believes in the phrase: "Right Idea in the Right Market with the Right Execution at the Right Time and with the Right Team"
Of his influences and motivations in the journey, he says: "Self-confidence, market research with on-ground data, and positive vibes helped me a lot to tackle the roller-coaster entrepreneurial journey. The entrepreneurial journey is not a straight line. My wife is a motivational leader for me. She has played a great role in my success. I really like Sachin Bansal of Flipkart, started with a simple idea and exited with a large-scale startup. He has been a great example of a middle-class family guy with great execution and self-motivation."
The Co-Founders have always shared examples of fundamental core values in every fortnight meeting with the team members. Whether it's universities, colleges, students or parents, they are never to pitch any false commitments and misinformation. They believe their business runs on references, and core values are more important when you don't want to spend extravagantly on marketing. "The only core fundamentals are the marketing funnel for your organization," states Prateek.
Parting Words
"Don't start a startup because it's a trend, start a core business with clarity and profitability, or find the mental peace with your regular job and alternative investments returns, and don't chase a stressful entrepreneur journey without backup."
Must Read:-
* This article was originally published here