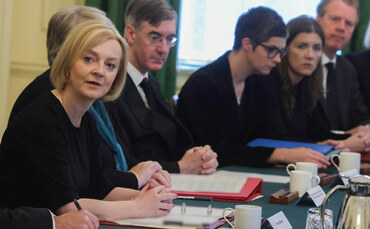 A cross-party group of MPs has a plan to get the government's environmental agenda back on track, but are Ministers listening amidst the Westminster chaos?
What should the government do next to pull it out of its current tailspin? Number 10 is not exactly wanting for advice, with MPs and commentators offering Prime Minister Liz Truss the full gamut of recommendations from immediate resignation through to a reversal of the already reversed tax cuts. But amidst all the Westminster intrigue and big picture debates over fiscal responsibility and tax and spend ideology, there has not been much in the way of practical policy proposals that might help the government get back to the essential business of governing.
Today the cross party All Party Parliamentary Group on the Environment, which is chaired by Truss ally and net zero champion Chris Skidmore and counts scores of MPs as members, attempted to fill the black hole where the government's green policy agenda should be with a new 10 point plan to help get the UK's progress towards its climate and nature goals back on track. Number 10 could do a lot worse than to adopt it wholesale.
The plan is not comprehensive, but it focuses deliberately on measures that could be enacted over the next 12 months that could either make up lost ground or build on recent progress. It also highlights how much of the proposed green policy agenda is neither controversial nor particularly difficult to enact. "The cost of living crisis has demonstrated the fundamental importance of energy sovereignty to our economy and, with strong public support for meeting net zero, the new government can accelerate policies which address climate change and the cost of living cohesively," the report states. "From improving energy efficiency, to rolling out electric vehicle charging infrastructure, developing green skills and restoring nature, there is much for the new government to get on with."
Big, controversial, and costly decisions will have to be taken to deliver on the UK's long-term net zero goals, but there are plenty of relatively simple policies that could be quickly adopted and would unlock multiple environmental and economic benefits.
For example, the first recommendation in the APPG's 10 point plan is for the government to introduce a net zero devolution deal that would see local authorities provided with more funding and powers if they agree to ambitious carbon budgets. There is ample evidence the government can reduce the overall cost of the net zero transition by placing more investment and authority in the hands of the local administrations that will be on the front line of delivering it.
The second recommendation should be a similar 'no brainer' given the breadth of public and business support for increased investment in energy efficiency upgrades. "The government's recent announcement to expand upon the Energy Company Obligation (ECO) energy efficiency programme for fuel poor homes is welcome, increasing eligibility with an extra £1bn provided over three years," the report states. "However, the industry has indicated it could absorb £3bn over three years, enabling more low income households to be supported (up to 2.1 million households over three years)."
Such proposals may struggle to gain traction with a government that has just been provided with a painful reminder of the importance of fiscal prudence, especially when the new Chancellor is warning everyone to brace for austerity 2.0. But the APPG points out that effective devolution and an expanded ECO scheme could reduce Treasury outgoings through the government's energy bill support package and could be funded through either a long-term spending commitment or an extension of the windfall taxes on energy providers.
Other constructive green policies could be delivered at relatively low cost. For example, the paper recommends a new Office for Carbon Removal should be formed to regulate the carbon offset market and provide a clear and stable policy framework for the fast-expanding nature-based solutions sector and emerging direct air capture and biomass energy with carbon capture and storage markets. Similarly, the APPG argues that setting ambitious new nature restoration targets under the recently passed Environment Act would provide project developers with policy clarity and go some way to repairing the government's deeply damaged relationship with conservation NGOs. Such targets should include a specific goal to restore 30 per cent of the UK's saltmarshes and sea grasses by 2030, the MPs argue, highlighting how such projects provide one of the most cost-effective and nature rich mechanisms for expanding natural carbon sinks.
Along similar lines, the report joins the chorus of environmental groups urging the government not to mess with its proposed reforms of farming subsidies, plans for which are well advanced and broadly popular. "The Environmental Land Management scheme (ELM) is the main funding and delivery mechanism for the government's 25 year environment plan, which includes aims to reverse the decline of nature, achieve net zero and reduce natural hazards like flooding," the report notes. "The three strands of ELM are the Sustainable Farming Incentive (already partially launched), Local Nature Recovery and Landscape Recovery. The latter two schemes, especially, could be very high value for money and are popular with voters in all regions of the UK. For example, using Landscape Recovery to restore some of the lowest yielding 10 per cent of farmland (which produces just one per cent of the food grown in England) for nature could provide half the carbon reductions needed from the whole agriculture and land sector by 2035, and increase bird populations by 1.5 times by 2050."
Some farmers may be lobbying fiercely against the reforms, but the APPG stressed that the plans could actually increase the incomes of farmers on low quality agricultural land by around 20 per cent while delivering huge environmental and climate resilience benefits. "Defra should avoid further delays in rolling out these schemes and ensure funding available is sufficient to achieve environmental objectives whilst giving farmers a fair income," the report states. "Until Defra has properly evidenced the scale of funding needed to achieve its objectives, the total proposed budget for ELM should be protected, in real terms, to 2030. Defra's proposed equal three way split across the three schemes within ELM should be maintained to give farmers certainty."
Meanwhile, proposals to cut VAT on public electric vehicle charging from 20 per cent to match the five per cent rate enjoyed by people driving at home are described as a "no brainer" that would significantly widen the market for electric vehicles (EVs) by making it easier for people without off street parking to switch to zero emission models. Cutting tax take from EVs may run counter to the Treasury's desperate desire to boost revenues, but removing the VAT discrepancy on public and private charging should boost an EV market that is starting to slow down and trigger a much-needed conversation over how to tax electric motoring in the longer term.
The paper wraps up with a trio of proposals that should serve to boost investment in clean technologies and green skills through a new 15GW by 2035 target for floating offshore wind capacity, a statutory duty for the government to purchase zero carbon flexible and firm power to help force fossil fuels off the grid, and a call to expand the Treasury's super deduction for business' capital investment to cover investment in skills and non-physical capital.
What is remarkable about the APPG's 10 point plan is how measured and reasonable it all sounds. It may duck big complicated questions about how to fund hydrogen and CCS projects, how far and fast to go with planning reforms for new renewables projects, whether to proceed with HS2 or new nuclear projects, and the role of domestic gas in the transition. Skidmore will have to wrestle with these various crunchy policy issues when he delivers his much anticipated review of the government Net Zero Strategy later this year. But today's report, which has been endorsed by Skidmore in his role as chair of the APPG, underscores how there is a suite of effective and popular environmental policies that could be quickly deployed, would work within current fiscal constraints, and would provide a significant boost to the environment, the economy, UK energy security, and the net zero transition.
A government able to look beyond the rolling crises it has imposed upon itself and the rest of the country would quickly recognise that here is an important and popular policy programme that should be adopted forthwith.
* This article was originally published here