11 AI Text Analysis Software Tools [2022]
In recent years, the development of AI-powered business software has made great strides.
AI text analysis software, also known as text mining software, uses natural language processing to help users gain insights from a variety of data sources, including emails, transcripts, surveys, and customer reviews.
With this data, businesses are able to identify patterns and trends in customer behavior, understand and analyze employee sentiment or improve the written content.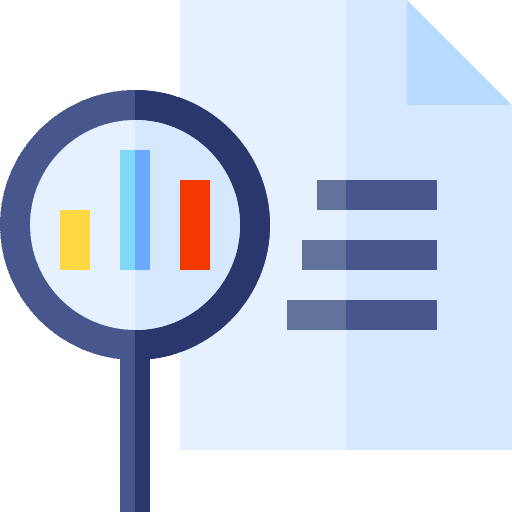 Table of Contents
1.
Rapidminer Text Mining
Rapidminer is an enterprise AI software that uses text mining algorithms with NLP techniques to understand the context deeply of every text providing insights using structured and unstructured data. The sentiment analysis uses hyper-target communication to analyze the direct feedback and attitude towards these services.
Analyzing all your data resources here with data science helps with risk management and fraud detection, in addition to marketing and product development. The Rapidminer dashboard is perfect for everyone onboard with its automation for beginners and integrated environments with experts.
It provides open source data science academia.
Supports a wide range of language, data, and systems


2.
Chattermill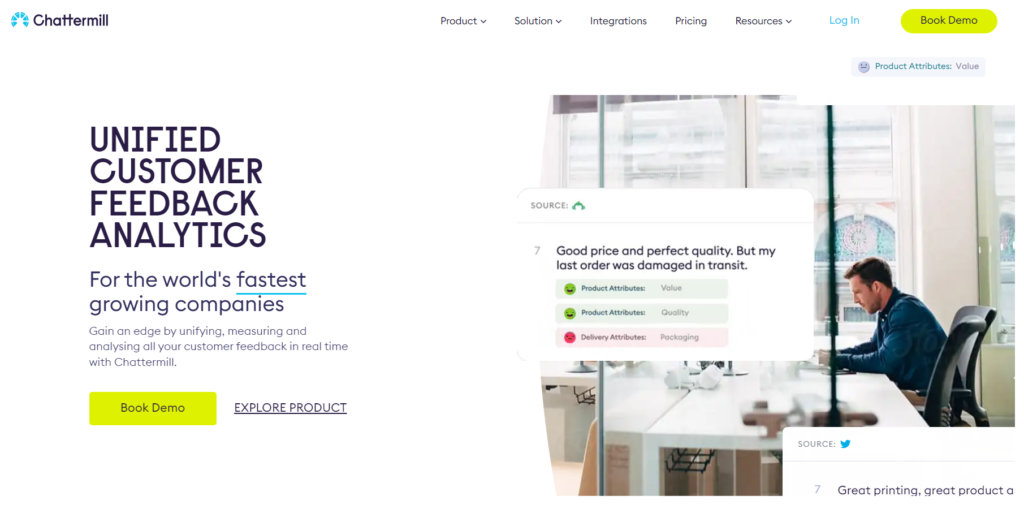 Chattermill uses its frictionless and powerful integrations to derive experiential and operational insights from unstructured and structured data.
Its powerful AI categorizes the insights into sentiments and themes groups for better understanding in less time, providing finer details.
The filter and search functions here enhance the dashboard functionality making it efficient to get required analytics from huge datasets.
It aggregates CSAT scores.
Supports multiple integrations, including third-party integrations
Trend analysis and part of speech tagging


3.
Relative Insight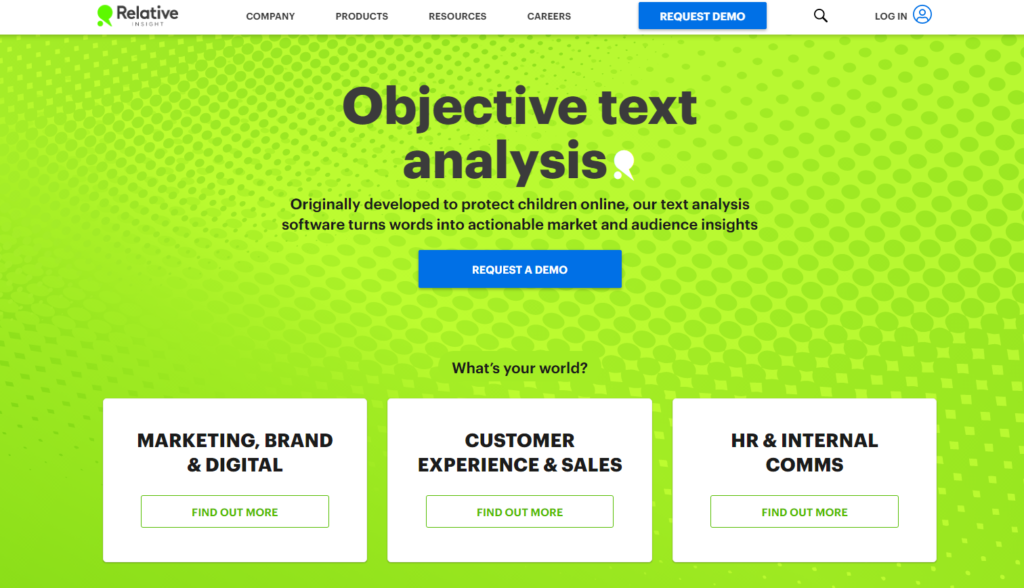 Relative Insight is based on law enforcement technology for changing raw datasets into actionable insights using qualitative data analysis. It makes qualitative data analytics defectively actionable by comparison, strategic data set selection, and sourcing text from specific channels.
Relative Insight combines advanced comparative linguistics with NLP for a better contextual understanding of textual data. Some of the ways by which it offers great value include:
Split functionality for breaking down datasets
It compares text based on geographic metrics, competitors, audience segments, etc.


4.
Caplena
Caplena text analytics AI integrates into your application for real-time automatic tagging, and its backend is based on custom-trained models.
Its RESTful API automates batch import and export of data from different sources, so you can import data from anywhere and export it to any system. Caplena supports more than 30 languages without any translations and over 100 with translations.
It keeps your dataset and dashboards GDPR compliant as the AI removes 10 types of personally identifiable information. Some valuable features at Caplena include:
Hierarchical organization of topics on 2 levels
AI customization
Categorization of about 200,000 rows every hour


5.
Canvs.ai
Canvs completes the Agile research stack with its powerful and intuitive dashboard with insights that pivot the data towards better decision-making.
Here you can analyze data qualitatively and quantitatively with its auto-code backend model giving a better idea about customer mindset. It focuses on gaining insights from your open-ended texts by combining NLP and AI.
Canvs also tracks the customer data across social media platforms to track your campaigns and customer interaction with them beyond basic information. It brings value in the following ways:
Faster time to insights
It has a patented model of 43 emotion types
Dashboard based on Boolean strings to keep things simple


6.
Lang.ai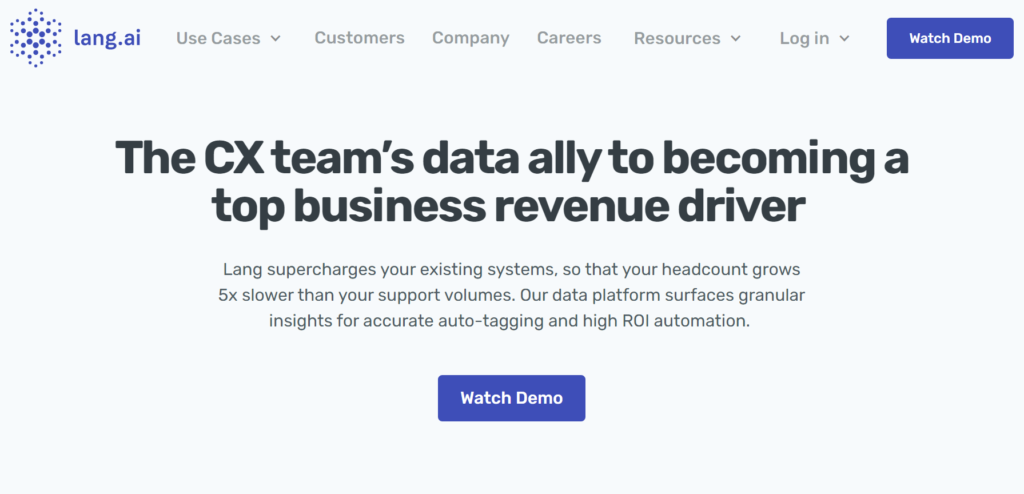 Lang brings the combination of AI-backed backend and human touch front end for your marketing insights automating the manual agent tasks and providing categorized interactions for a better customer experience.
It automatically categorizes the support tickets in real-time, and you can configure this automation with insights according to your requirements.
The AI technology here is not dependent on any training and does not need any data labeling. It also provides:
It classifies every text in real-time with its API
Comes with OWASP ASVS for better security and reliability
Insights have complete transparency


7.
Thematic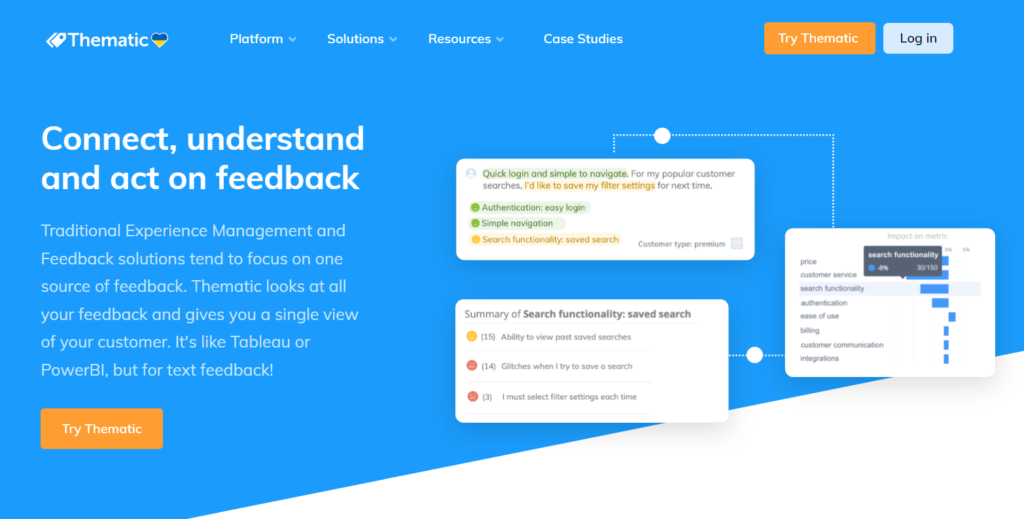 Thematic analyzes everything from surveys and reviews to your chats, and it comes with a no-code model that does not need any training from your end. The Artificial intelligence groups phrase from different channels and implies its thematic analysis for discovering customer thoughts.
Thematic comes with its workflow automation feature that keeps track of data and presents in its visual form to point out the ley segments. Thematic also provides the following features:
One-click integration with different content channels
Theme tagging and modification


8.
Forsta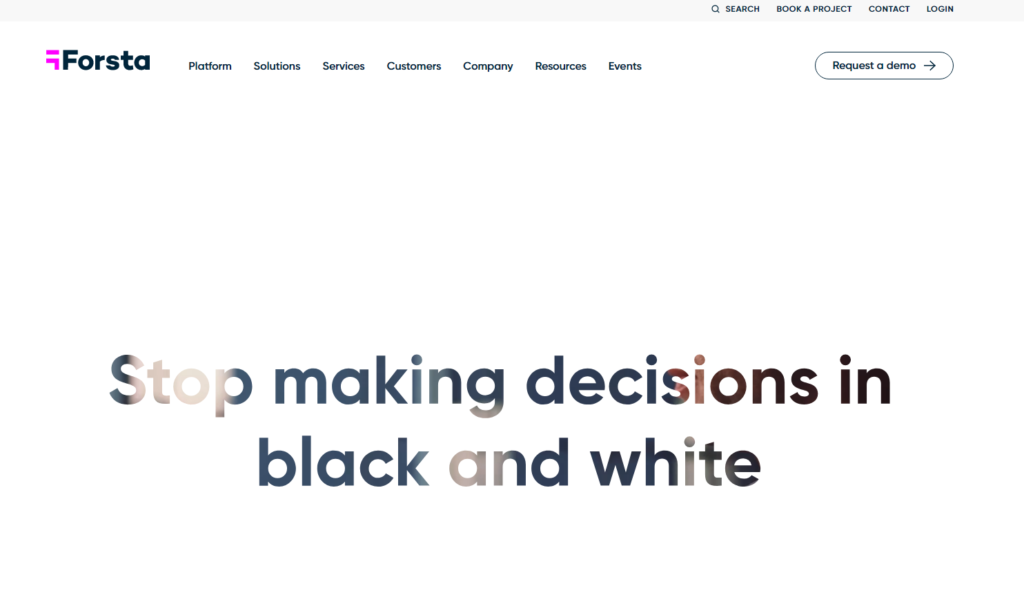 Forsta pairs your AI with a touch of humanity, so its algorithms are shaped according to your business requirements. You select the solution and train your algorithm, and the experts at Forsta take care of the rest.
Forsta takes your data and not only converts it into actionable insights but also provides strategies and tactics through clear reports to enhance performance. To get details about the total customer experience, Forsta brings all of these channels to one place:
Chat logs
CSAT surveys
CRM systems
NPS


9.
Lexalytics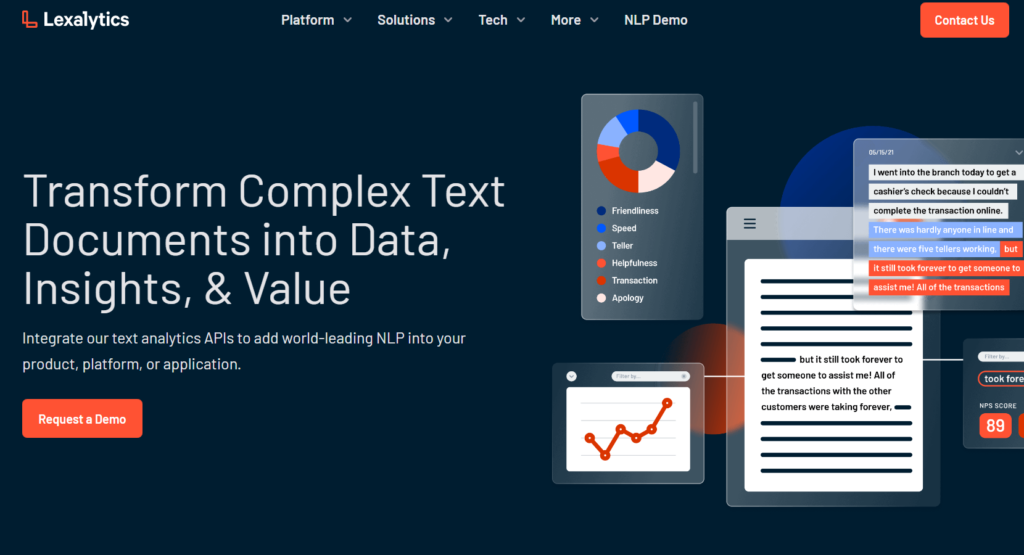 Lexalytics focuses on providing its services in the form of APIs powered by its world-leading NLP capabilities. It offers flexible deployment options on the following options:
Lexalytics is not only restricted to the English language as it represents 67% of the population, with 29 languages covering 6 continents with its world-leading Ai. Here you can deploy custom machine learning models with your requirements and set custom-training strategies to enhance performance and accuracy of insights.
On-premise hardware
Private cloud
Public cloud
Hybrid cloud infrastructures


10.
Yabble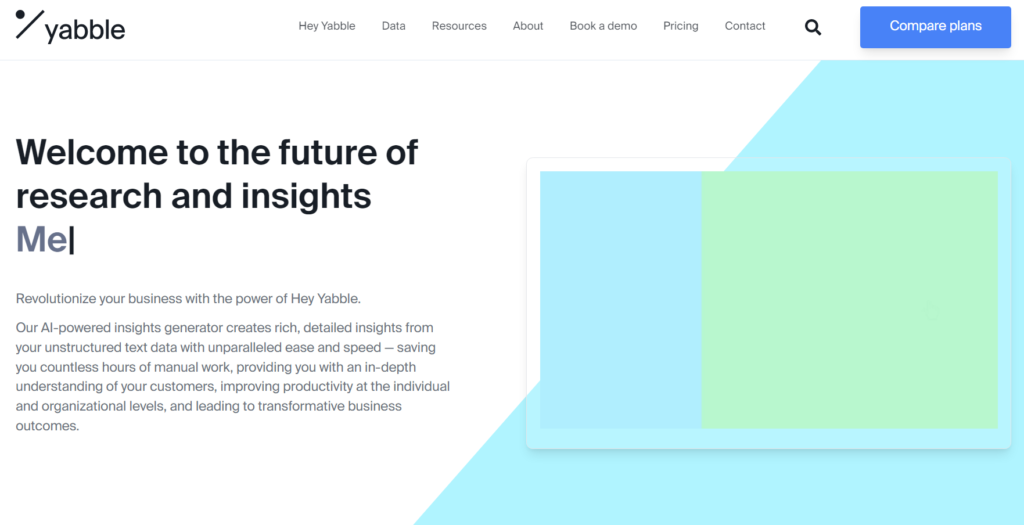 Yabble transforms the unstructured text data with its Count and Query functions, where you can use either or both of them together. It first implies the count function that provides analytics from the text data.
The Query function works on the upper level providing a layer of richer detail getting information from Count function results and providing insights accordingly.
So, you get to choose the level of richness of the data you want to analyze. The sub-theme counting feature here helps discover the drivers behind your organization's customer feedback performance. Yabble also provides the following features:
Theme counting to select themes according to your datasets
One-click sentiment analysis
Works on GPT-3 neural network


11.
MonkeyLearn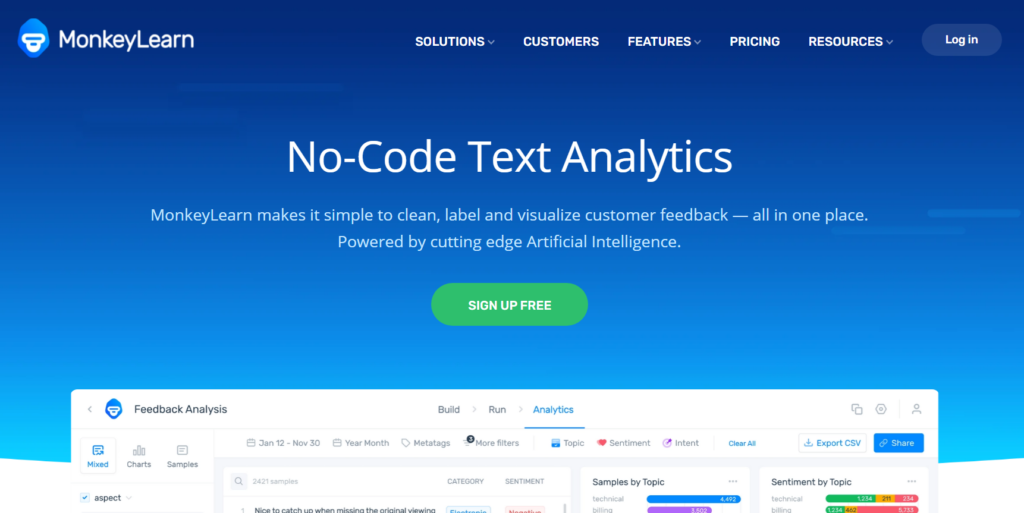 MonkeyLearn brings a no-code text analytics experience with a cleaner interface, and it keeps all the important insights in one place.
It provides instant detailed insights in visual form, allowing you to dig deeper into the customer feedback data. MonkeyLearn allows you to create custom visualizations and charts within its interface to focus on the data and insights you need the most.
Its multiple filter options with ML models train your model without coding or building it. Here you can get a much more personalized experience with tailored templates for different requirements and pre-made text analyzing models
Some other features here include:
Instant actionable insights
Connection with API and dashboards
NPS and CSAT Analysis.
AI Text Analysis Software Final Words
In conclusion,AI text analysis software is a powerful tool that can help organizations to make better decisions. The software can help organizations to analyze large amounts of data and to find patterns that would otherwise be hidden. However, the software is not perfect and it is important for organizations to understand its limitations.
Patryk Miszczak
I am an author, blogger, and full-time online entrepreneur based in the UK, focusing on e-commerce and affiliate marketing. Business Solution provides people with currently working marketing techniques that I personally use to build profitable online businesses, including SEO, traffic generation, affiliate marketing, and more.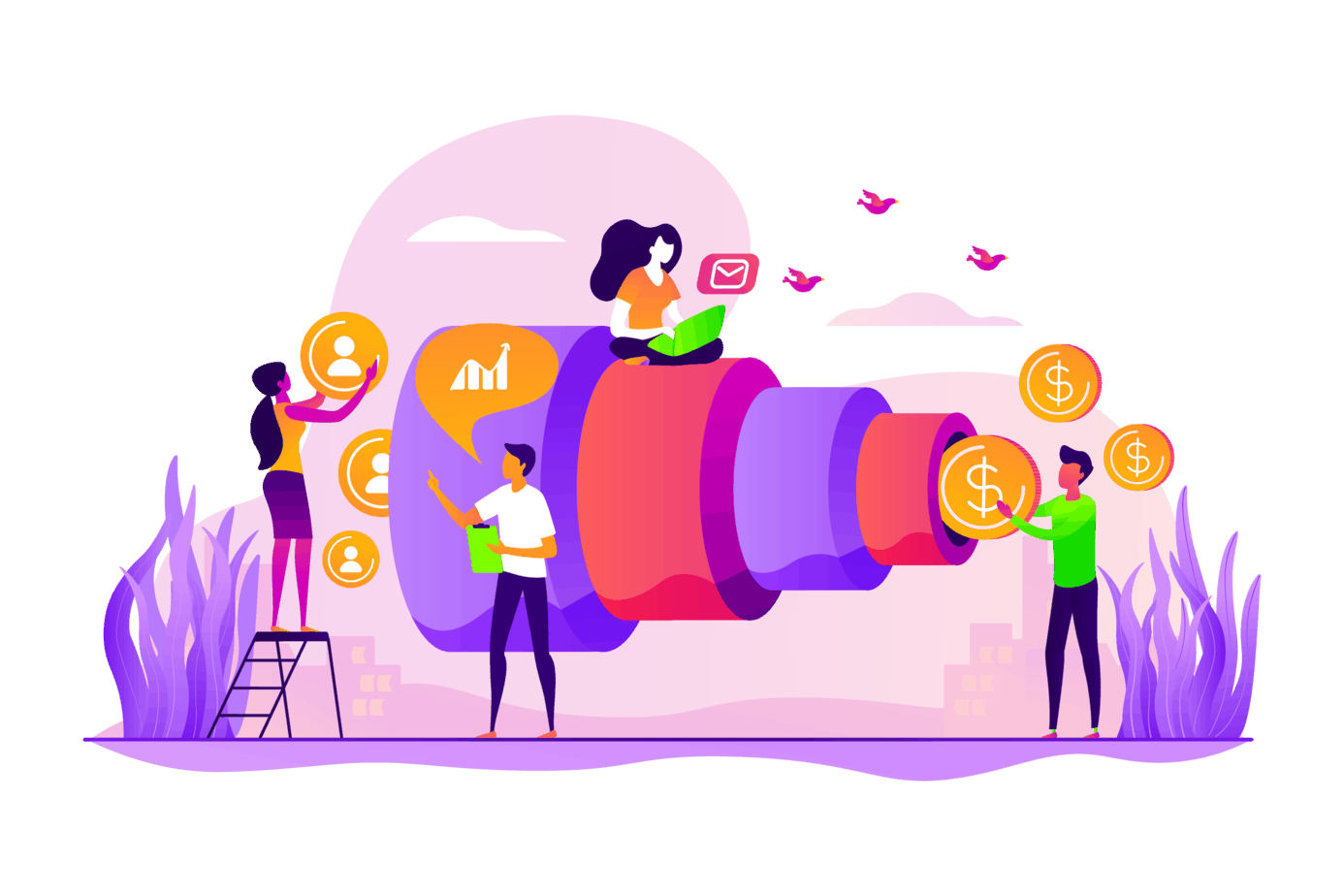 * This article was originally published here