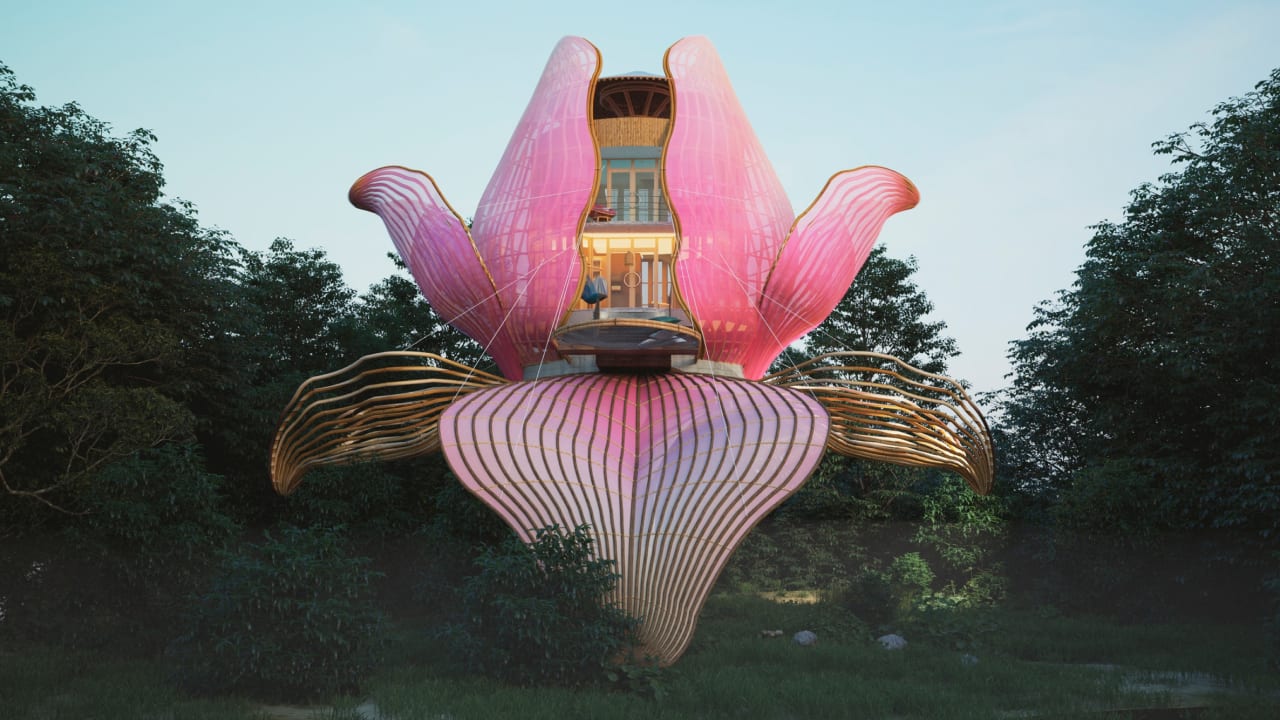 A giant fossilized snail. A cheese wedge. A disco ball. A Dutch clog. This list of random objects might seem like some bizarre word association exercise, or perhaps clues in a disturbing murder mystery, but they're actually something even stranger: future accommodations on Airbnb.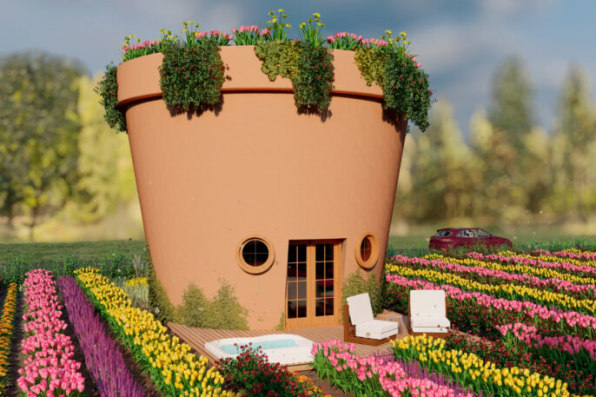 Whitney Hansen [Image: courtesy Airbnb]
They're among a list of 100 new projects recently awarded $100,000 grants from the short-term rental platform, which has carved itself a niche in the vacation-rental business by offering what it calls OMG! listings like a UFO-themed cabin and a boot-shaped home. By next August, Airbnb users could have their pick of an even wider and weirder range of getaways.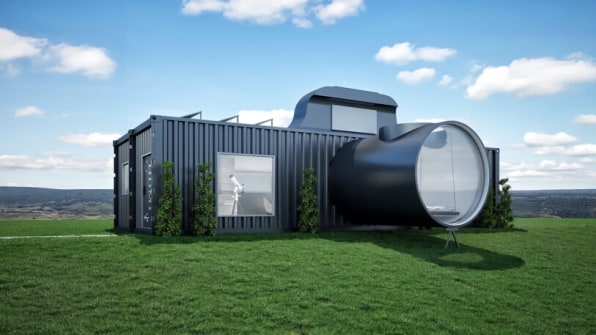 Matthew FitzPatrick, Giant Camera [Image: courtesy Airbnb]
Airbnb announced its $10 million OMG! Fund back in June, offering to financially support audacious and interesting design proposals in exchange for the right to exclusively offer them for short-term stays on Airbnb for one year. The offer was apparently enticing; tens of thousands of applications were submitted. For Airbnb, the investment is on par with a midsize advertising campaign, yet results in marquee listings that the company can cash in on for the next year, at least.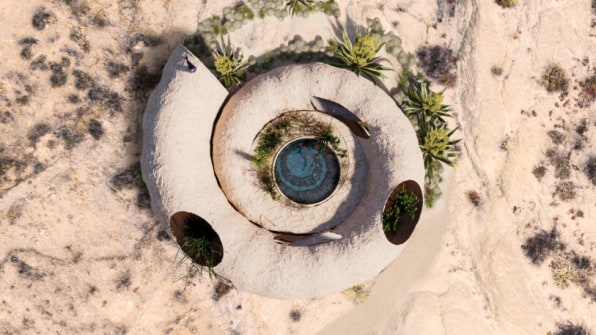 Diego Arias, Giant Snail [Image: courtesy Airbnb]
Judges—including Sydney-based architect Koichi Takada and Airbnb Superhost Kristie Wolfe, who has a potato-shaped building listed on the platform—whittled them down to the 100 winners. The projects range from whimsical and zany to absurd. Most could be described as buildings that are shaped like things: a cactus, a beehive, a flower pot, a camera, a "mushroom spaceship," and a clog located in an open field in the Netherlands (naturally).
Esteban A, Honeycomb [Image: courtesy Airbnb]
This won't be the first time that concepts get such a literal translation into built form. It's an idea that's been explored by famed architects, as in Frank Gehry's 1991 headquarters for the advertising firm Chiat Day, which features an oversize set of binoculars as its front facade. It's also the subject of a famous bit of modern architectural thought. In their 1972 book, Learning from Las Vegas, architects Robert Venturi, Denise Scott Brown, and Steven Izenour described buildings as being "ducks" or "decorated sheds"—ducks being designed in a way that makes very clear what the building is used for, like a hotdog-shaped fast-food stand; and decorated sheds requiring signage to explain what they offer, like a bank or an office building.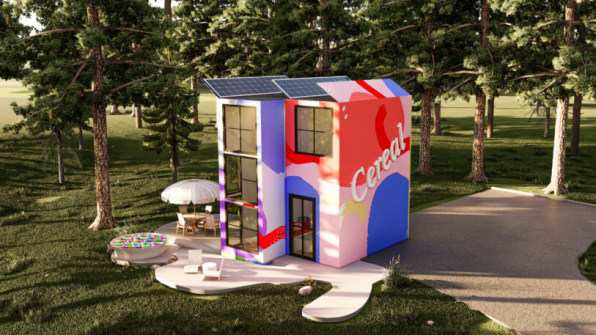 Trey Dillon, Cereal Box [Image: courtesy Airbnb]
Airbnb is funding a lot of ducks. One of the selected designs is a tire-shaped house made of junkyard tires. Proposed by Kimberly Sullivan and Clayton Brown, a married couple who owns a large plot of rural land in Southwest Michigan, which also has a home they rent on Airbnb. Sullivan says she almost deleted the email she got from Airbnb about the OMG! Fund, but when she opened it and began exploring other homes already offered in the category, she immediately came up with a design. "I was like, Oh, we can get really, really crazy with this," she says.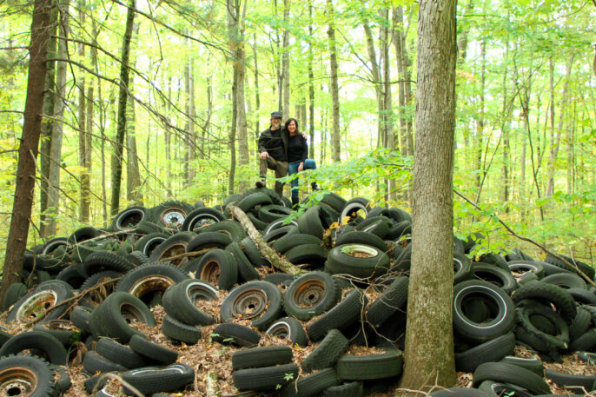 [Image: courtesy Airbnb]
The design she dreamed up would reuse dozens of old car tires that are piled up amid the forest growing on the couple's land. Discovered years after they bought the place, the tire pile revealed the land's distant past life as a junkyard. Sullivan leaned into this backstory and came up with a home design that used the tires as wall building material and old car parts as interior light fixtures; all in a two-level vacation house that, yes, looks like a couple of giant rubber car tires.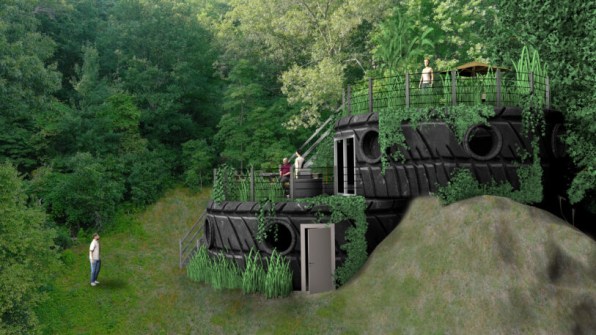 Kimberly Sullivan, Tire House [Image: courtesy Airbnb]
The couple is now working with a local builder to draw up the construction documents and get permits. They expect the $100,000 grant to cover most of the costs, and plan to reuse felled trees on their property to build their own furniture. Brown says the tire-based idea is not totally novel, as people in the Southwest have been using old car tires since the 1970s to build eco-friendly structures known as Earthships. He's hoping that the tire-based home shows guests that there are ways to reduce the human impact on the environment, and that tires may be a viable building material for other projects. "I think it could be proof of concept," he says.
Another grant-winning proposal is located 90 minutes outside of Santiago, Chile, on a hilltop overlooking an avocado farm. The proposed home looks like an avocado.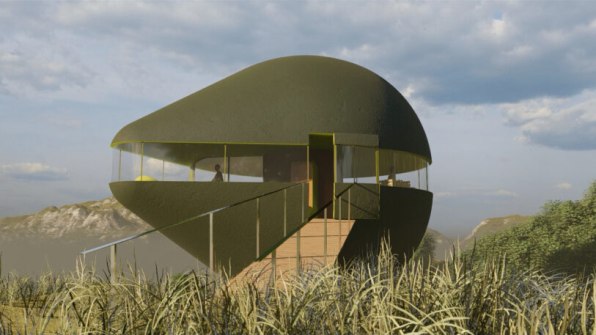 Ignacio Rios [Image: courtesy Airbnb]
Ignacio Rios says he'd been dreaming of such a home for years. The farm has been owned by his family since 1998, the year he was born, and he says its natural beauty has an almost spiritual effect on him. He had long wanted to share this with others and thought about creating a guesthouse where people could come to experience the beauty of the farm and its lush hills.
When he learned about Airbnb's fund, he thought his dream might be a longshot. He worked with two architects to come up with the idea: a perfectly ripe avocado, laid on its side and sliced in half, with the top partly removed. The brown seed inside is actually the home's bathroom, and the green flesh around it holds the living spaces, a hot tub, and 360-degree views. Rios, who now lives in Santiago, says being selected by Airbnb for the grant was unexpected.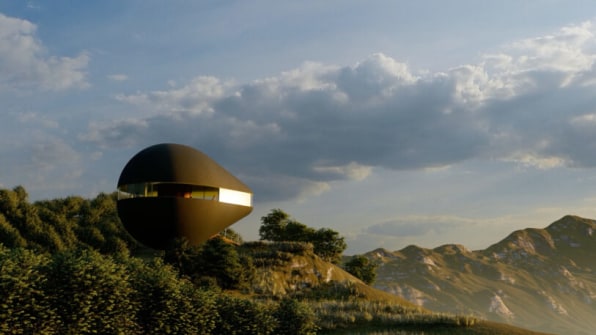 Ignacio Rios [Image: courtesy Airbnb]
"Without the funds this is not possible at all," says Rios. "This is like a fantasy that would never see the light of the day."
Construction work on the project is expected to start soon. Rios says he's moving back to the family farm to oversee the project, which has to be completed by August 2023, per the funding agreement. After it's ready, Rios says he will live nearby for the next year, offering guests tours of the farm and its surroundings.
The project is more than just a wacky building to him. It's a chance to share the space he loves so much, and to launch what may be a new business for his family's farm. "This is life changing," he says. "When I got the email, it was like, Okay, this is the day my life changes."
* This article was originally published here