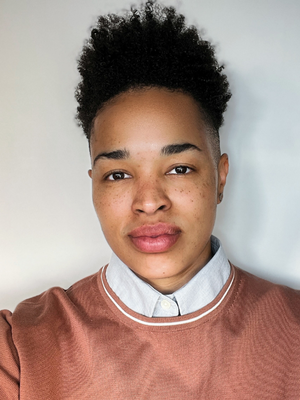 "For this moment, while employers are asking you to bring yourself to work, do it. Do it now. Do it today," says Amber Hairston. "The hope is that this is a movement, not a moment. But time is of the essence, so do it. It will pay dividends."
In honor of National Coming Out Day on October 11th, we share Hairston's experience on freeing yourself into authenticity.
Seeing the Hurdles Before They Come
Graduating during the global financial crisis and determined to exit the social confines of her rural Virginia hometown, Hairston took a position in marketing and communications. But "in typical Millennial fashion," she made a network connection on Twitter who saw her as suited to commercial real estate finance and directed her towards an opportunity. In 2015, she then moved to PGIM, where she ascended across four positions within six years.
"I was redirected to the path that was intended for me," reflects Hairston, who had planned to study business before diverting towards communications. "I think of myself now as a different kind of storyteller."
As an underwriter, Hairston pitches deals to loan approvers after careful assessment of a property, who's operating it, the market, and other financial risks. Attributing her work ethic to her parents, Hairston prides herself on attention to detail: "I'm very thoughtful in assessing what the hurdles are. I don't always like to call them 'risks' necessarily. I call them 'hurdles'—these are the hurdles, and this is how we can and will clear them."
The volatility in the domestic and global economy, and the impact on the real estate investment marketplace, has definitely provided challenges to step into—and Hairston finds that exhilarating. While she won't speak the most in a meeting room, when she does, she has reflected and has something powerful to say.
Time management and foresight have been her boons. "There's nothing that I haven't thought about when I'm underwriting a deal. There's nothing that I encounter that I haven't at least entertained as a possible hurdle. I'm never caught flat-footed or surprised."
"Dropping the Weight Vest" To Rise in Authenticity
Reflecting on her desire to stretch beyond home as a teenager, she says, "It was a very black and white space in a literal and figurative sense. There wasn't a lot of space for a queer woman of color in the town that I came from, and I knew that I could not grow in the ways that I needed to grow in that environment," says Hairston. "D.C. just made a lot more sense, and it was my dream city in the United States."
But while having left the confines of her small town, Hairston in some ways brought the burden of constraints within her to D.C.—until the pandemic.
"I kept the queer part of myself under wraps for so long. I tried to be something else and it was exhausting. And it's not because of PGIM – this is the box that I grew up in, a limited view of what a woman can and should be, what they should look like," says Hairston. "But the pandemic changed everything. We were at home and there was nobody to see me. There was only the work. It felt like I had been walking around with a 'weight vest' for years."
Hairston recalls a moment when she was overwhelmed with work while colleagues were away and she needed all of herself: "I think that was the moment that everything changed because I didn't have a choice. I had to take off the vest at that moment to power through."
She continues, "Then as we started to return to the office in late 2021, I just told myself I wasn't putting it back on. I decided I was done with it."
"In a virtual setting and with all the focus on diversity, equity and inclusion, I was ready to bring the breadth and depth to my experience to bear as a queer woman of color."
That choice has impacted her relationships across the organization and the industry: "My relationships wouldn't be as meaningful personally or impactful professionally had I not brought everything to the table."
And it's impacted her performance and visibility: "I've never been a stronger performer. I draw so much power from all the things that make me different. I used to view it as a disadvantage, but it's so essential to how I'm able to show up, how effective and efficient I am, and the impact that I'm able to make. I draw from everything, and to have not done that for so many years was a detriment to my performance."
Reflecting overall, she says, "It sounds sad this box that I, in part, put myself into, the unnecessary weight that I carried for so long, but the upside is maybe I can run faster and jump higher than I ever thought I could."
Evolving Her Work Relationships From Within
As Hairston has become more comfortable in taking up space in a way that is authentic to herself, she's feels she's allowed others to do the same.
"Historically, I've been really hard on people. I could be pretty demanding and have really high expectations," reflects Hairston. "I'm not sure that's changed, but with the pandemic and everything, the way that I approach it has changed. I've had to take it easier on myself and that's translated to other people."
Reflecting deeper, she shares, "My harshness was a reflection of how I was talking to myself. Now that I've reined in my own self talk, I'm more patient, compassionate and thoughtful in how I get the best out of others, because that's ultimately what I want."
Empowering Others Beyond Yourself
Hairston feels blessed by an abundance of mentors and sponsors who had her best interests at heart, even when it meant losing her: "I think a lot of people see those who support them, whether consciously or unconsciously, as tools for their own growth and advancement and production. But there have been many people, at many turns, who let me go even when it was going to make things uncomfortable for them. They wanted to see me rise."
She wishes to take that with her, "There are people in this organization, and across the industry, who have altered the trajectory of my career by presenting me with an opportunity or a challenge. That's the type of impact that I want to have," she says.
"Part of the responsibility of leadership, whether you're the CEO or have one direct report, is to develop people and I hope I never lose sight of that." It's also important to her to be a steady presence that others can call on when they need anything.
Hairston is inspired by leaders who embody vulnerability and transparency. "They have the confidence to give you the latitude for mistakes and really allow you to grow," she says. That latitude has looked like saying her name in rooms she can't be in and risking putting their name behind hers while advancing her into new challenges.
She traveled broadly before the pandemic – from Costa Rica, Dubai, and Cape Town to London and Zurich. While more grounded during recent times, she's explored cultures through food and suspects she's read about 35 books in the last year and a half.
A sci-fi fantasy and Harry Potter fan, she enjoys V.E. Schwab and sometimes reads young adult fiction to appreciate the diversity of representation that was absent when she was growing up. Though never a "dog person," she was lovingly coerced into puppy parenting. She and her partner have a seven-month-old Bichon Frise named Artemis.
By Aimee Hansen
The post Amber Hairston: Agency Underwriter, PGIM Real Estate appeared first on The Glasshammer.
* This article was originally published here