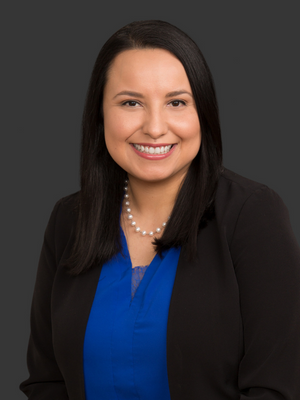 As a partner in the buzzing Emerging Growth practice, Cassandra Cuellar works with entrepreneurial clients who are launching companies and investors who are looking to back a promising venture.
Taking Ownership To Grow
"What gets me out of bed in the morning is the opportunity to work with people that are pouring their personal energy, time and wealth into the companies they're growing," says Cuellar. "It's very rewarding to be a part of their journey as they start those companies, grow them and hopefully realize a successful exit. It's life-changing for them."
Cuellar must understand the concerns and interests of both founders and investors in her practice. She emphasizes that a collaboration mentality and solution-orientation is required to effectively advocate for her clients: "Our job is not to identify 20 roadblocks and then say we can't go further. Our job is to identify the roadblocks, figure out if this is truly something that will be detrimental to our client, and then bring our clients in on that, figuring out the solution together."
Cuellar enjoys the fast pace of work these days: "You get so many more people that have new ideas and diversity of thought starting companies and taking a chance on themselves. It's great to see that and be able to be part of that."
She is also comfortable leaning in and taking a chance on herself. "I have a willingness to take ownership over things without necessarily having to be so dependent on a hierarchical structure," she says. "Startups run lean, so that's the way my group approaches the practice and it's how I've developed as an attorney."
From early in her career, she had to get comfortable communicating with CEOs, CFOs, and key decision makers, but she relates learning through taking ownership to even earlier in life.
"I grew up in a small town as the oldest of four kids, and my parents had their hands full. I had to take ownership of my own professional career – getting into college, getting scholarships and making sure I was set up to move away and do my own thing," says Cuellar. "Having that ability to do that from a young age translated well into being successful at this practice. I'm not afraid to take ownership over issues and clients and get stuff done."
The Confidence To Trust Yourself and Others
"Latinx students going into law school don't necessarily have readily-accessible role models that have gone into BigLaw, so often Latinx students make a choice to opt out of BigLaw, despite being more than qualified," cautions Cuellar. "But I have found that because Latinx students often have to figure things out on their own without role models, that makes us uniquely qualified for this profession. You are used to navigating unknown waters, so it makes it easier to approach novel legal issues, transactions, and clients. The one thing I've learned – through negotiating the law school process, getting a job in a big law firm and now building my career – is that whatever you can throw at me, I'm going to figure it out," she notes. "I don't get scared off by challenge. I can rise to it because I have done it before."
While launching herself into responsibility came naturally, her stretch zone has been releasing control. As a senior associate, she was accustomed to knowing every detail in every transaction and trusted herself to deliver on the high expectations she set. As she's moved up, she's had to learn to let go and trust in her team. Cuellar echoes other Latinas we've spoken to in expressing that being the one Latina within her practice, or one of few, feeds the drive to validate through performance. It makes letting go harder because more has felt at stake.
"Being a Latina, there's not that many of us doing what I do, so I do feel a certain responsibility to be able to prove myself here and make sure that anything I work on is done at 100%," she reflects. "That part of my identity and proving myself is impacted by this other part of me that needs to grow and trust other people to do things, even though I don't have 100% control."
Along with that self-awareness, she's found that empathy is important.
"Letting go of some of that control has been hard, but I'm working on it," she admits. "I've realized that everyone is an individual, and they're not all like me, and I have to manage to each person versus to what my personal expectations, approaches, or processes would be."
Encouraging Each Other's Potential
Inspired by leaders she's worked with, Cuellar models her practice upon listening and showing understanding to clients and those she is working with. She would love to see more Latinas follow a law path, and attributes her own decision to meeting a Latina lawyer in the Texas legislature, who encouraged her on the path.
At Shearman, Cuellar has felt supported in opening her possibilities by other women mentors: "I've always found someone willing to sit down and talk to me about things in a very honest fashion, who would guidepost, for example, that I needed to be thinking about business development, even as a second year, if I ultimately want to make Partner."
In formal mentoring of law school students, especially Latinas and Latinos, she implores students not to limit themselves based on context or precedents, but instead to take a good look at whether a big law firm could be a match: "You work a lot, but you learn a lot, and have a lot of professional opportunities. I think it's important that more Latinos and Latinas feel comfortable taking that risk, even if it might not be something your family understands at the time. You're setting yourself up for your future professionally. You can at least try, and you could even be successful."
Finding Out What Works For You
Cuellar admits it has taken her years to get comfortable in networking, but she tells students to take networking seriously as a skill to develop, the earlier the better.
But she's also found her own approach to creating connections. "What I've discovered, whether it's within the firm or with a volunteer opportunity, is my best networking is done when I'm working with someone. I take that approach of trying to get to know people by doing a good job with work they send my way, making sure that they feel valued and working from there (with common interests etc) – versus attending every networking event, because I find it hard to make deep connections in that context."
Cuellar considers it part of the trial and error of getting to know yourself. Try out different things to see what works for you, and develop your own network style.
Her close-knit family and three year old son Max come first in her life. They enjoy cooking, celebrating birthdays and planning holidays. She enjoys connecting with close friends through the early experiences of motherhood. In this particular moment, it appears her son Max is rebelling against preschool yoga.
By Aimee Hansen
The post Cassandra Cuellar: Partner, Venture Capital, M&A and Capital Markets, Shearman & Sterling LLP appeared first on The Glasshammer.
* This article was originally published here