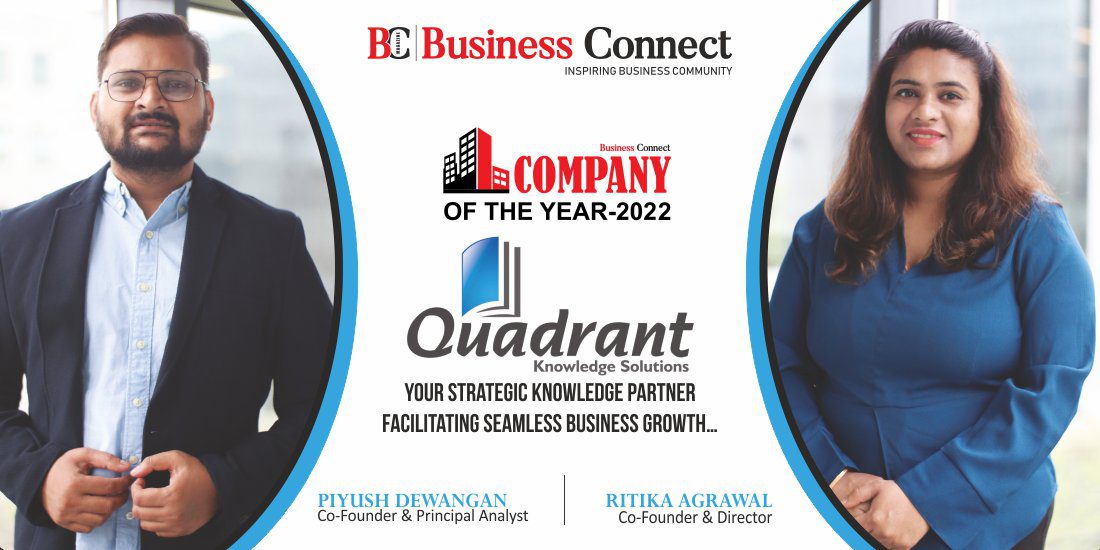 Quadrant Knowledge Solutions
We have brought to you an exclusive narrative of two insightful business leaders who hold the background of being prudent market researchers and business growth analysts for years. The duo of Piyush Dewangan and Ritika Agrawal co-founded a business venture that became a fast-growing global consulting & growth advisory firm in a short span of time. Quadrant Knowledge Solutions has become one of the most sought-after additions to the "Company of the Year 2022" edition owing to its customer-centric approach and thought leadership. As we sat down for a tete-a-tete with the duo, we conversed about the success story covering various aspects of the business and its impact across the whole landscape. Our belief is that our global readership will find this read equally fascinating as we are after interacting with the leaders of this venture. Let's dive in…
THE VIBRANT INTRO
Quadrant Knowledge Solutions owns the reputation of being a global strategic market research & growth advisory/consulting firm. Be it market research or consulting deliverables – every service is carefully designed to provide comprehensive and strategic insights targeting the clients' pain points. The research, both primary and secondary, is derived from qualitative and quantitative information based on the most authentic sources. So far, its unique growth strategies to survive as well as thrive in the marketplace as per the competitive scenario has helped expand its client-base in leaps and bounds. To take major steps toward the clients' aspired business transformation objectives, Quadrant Knowledge Solutions believes in becoming an integral part of their business model in the first place. Today, it has a gamut of special deliverables to address the clients' requirements:
Market Intelligence Service
Strategic Advisory Services for CIOs
User Consulting
Custom Research and Consulting Services for Technology Vendors
Quadrant Subscription Services
Content Strategy Services (CSS)
Your strategic knowledge partner facilitating seamless business growth…
THE INCEPTION TALE
After being involved in the market research industry for several years, Piyush Dewangan, Co-founder and Principle Analyst and Ritika Agrawal, Co-founder & Director, realized an existent gap between client expectations and the posed services across the market. Their observation was supported and justified by interactions with different technology vendors and end-users who were industry 'biggies'.
After performing their own personal research and survey, they concluded that only a handful of research firms were as reliable as they claim to be. There was a dearth of research-backed intelligence in the market. Against this backdrop, they conceptualized the foundation of an advisory & consulting firm that guarantees the authenticity of market research.
"We strived to establish a company where businesses can put their trust and rely on credible strategic research and consulting services. This idea came to life in the form of Quadrant Knowledge Solutions. Our rigorous research helped us understand global client expectations. We interacted with innumerable global industry leaders who were technology vendors, end-users, service providers, and independent consultants. As the result, we were able to design such offerings and strategies that were solely focused on fulfilling these expectations and bridging the existing gaps in the market," asserted the duo.
Making a steady growth, their number of clients increased significantly in a short span of time and the company managed to earn the trust of thousands of businesses globally. The clients come from across the regions including North America, Western Europe, Eastern Europe, APAC, Australia, New Zealand, and India, and the company is expanding rapidly in other regions as well.
VALUE-DRIVEN CULTURE
Whatever the firm has achieved today, the motive force is the insightful values ingrained by the luminaries at the core of the organization. Be it the strength or the quality of services proposed by Quadrant Knowledge Solutions, everything is drawn from these business values only, which are:
Robust foundation of market intelligence and scenario-based planning for strategic consulting
Authenticity
Exclusive focus on IT Software and Service Industry
A clear focus on enabling Business Transformations with Growth Advisory Services
Commitment to helping clients drive technology innovation, adoption, operational excellence, and transformations
Vendor Neutral organization
THE USPS
Currently, the market is highly competitive, and the company has carved a niche for itself in a short span of time. Conversing about the parameters that set it apart from the rest, the duo revealed several points. Every service provided to the clients is enriched with these differentiators only.
Scenario-based Planning – Quadrant Knowledge Solutions understands that every business is different and every client has a different problem at hand. This makes every client special with its unique requirements and expectations. Keeping this in mind, it factors in a range of current market drivers and other dynamics, technology as well as business trends and provides them with the most accurate industry insights, risk assessments, vendor product roadmaps, and strategies. This makes Quadrant's research and recommended strategies quite effective for the clients, addressing their specific problems and requirements.
Visionary Innovation Framework – The company's research service incorporates a unique visionary innovation framework that helps clients identify future market demands and trends based on the present market scenario and innovations. This enables businesses to do planning for the future and stay one step ahead of the competition.
Strategic Knowledge Partner– By not limiting to providing only research-based insights, Quadrant Knowledge Solutions acts as the client's extended office and an integral part of their team in their journey to achieve specific transformation goals.
SPARK Matrix – Short for Strategic Performance Analysis & Ranking, SPARK Matrix is Quadrant Knowledge Solutions' proprietary tool. It positions and ranks all the IT vendors in the global market based on their technical excellence and customer impact. This unique approach of Quadrant on competitive intelligence helps end-users from vertical industries perform a detailed evaluation of vendors as well as technologies to support their digital transformation initiatives.
Comprehensive Research Methodologies – The market insights and intelligence by Quadrant Knowledge Solutions are backed by extensive and meticulous research based on both secondary as well as primary sources. Such a comprehensive methodology gives detailed and accurate perspectives on the market dynamics and trends, technology evolution, and vendor assessments.
INCLUSION OF INNOVATIVE METHODOLOGIES
To survive in such a dynamic space, innovation is a mandatory factor. Therefore, the firm has developed a one-of-its-kind KAIZEN model that contributes to the continuous improvement of the business operations. Inspired by this model, the management decided to form a SIG (Special Interest Group) team consisting of highly motivated staff members along with some clients and industry experts.
The core motive behind this assemblage was to sync with the market trends as well as advancing technologies alongside being in 'the know' of the internal issues and challenges faced by the company. The sole responsibility of this special team is to consider and incorporate better business practices across the overall functioning by considering all the aspects mentioned above.
"It is our unique way of assuring that our offerings are constantly evolving and aligning with changing dynamics and innovations. Moreover, we are also envisioning expanding the SIG team offering membership to global industry leaders consisting of end-users, technology vendors, and IT service providers," unveils Ritika Agrawal.
WHAT'S NEXT?
After tasting resounding success via their exemplary advisory services, they are now into curating a leapfrog strategy for constant business expansion. This growth is not only restricted to the valuation but also focuses on the revenue perspective. "We aspire to see ourselves emerging as the unicorn not just by valuation but also in terms of revenue within the next 10 years from now, for which we have created a strategic roadmap that will allow us to be successful on that note," stated Piyush Dewangan.
THE CONCLUDING NOTE
Both the co-founders believe in "taking action" and advise the entrepreneurs to do the same. Before putting an end to the conversation, Ritika says, "Don't wait for the right time. The right time is NOW. Staying consistent in what one wishes to do is the key to success. The path is surely not easy, but facing failures gives courage". In other words, Piyush says, "There is no shortcut to success. One must identify and work on the weak points constantly and slowly pave the way for success".
Must Read:-
* This article was originally published here