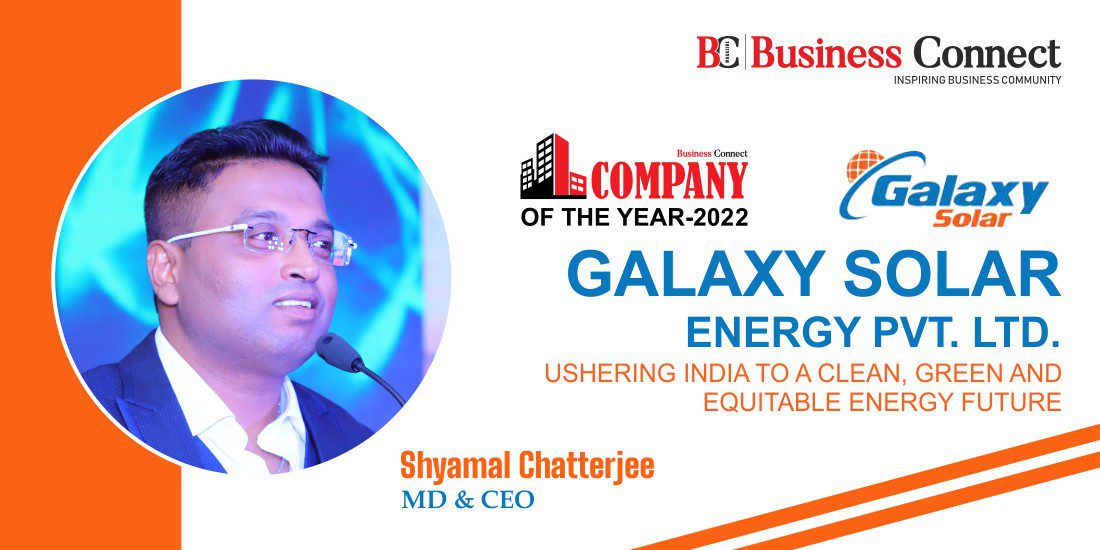 GALAXY SOLAR ENERGY PVT. LTD.
USHERING INDIA TO A CLEAN, GREEN AND EQUITABLE ENERGY FUTURE
Shyamal Chatterjee MD & CEO
It's remarkable to see how our lives and means of subsistence have evolved over the previous ten years. Specifically, how innovations have enhanced our ability to think, act swiftly, and connect. But above all things, people are paying much closer attention to green practices. The world is shifting from climate-wrecking fossil fuels to clean, renewable energy in order to cut CO2 emissions. Fossil fuel continues to be a chief source of energy as well as the main reason for increasing pollution.
It affects both life and the economy, since both are inversely corelated with the degree of environmental degradation Given the scenario, switching to solar solutions could be a prudent move. The sun is the most renewable and readily available source of energy. On the other hand, solar cells to capture and convert light energy into electricity are now more affordable. But to have a sustainable solar solution, you need a strong partner that delivers on its promises.
This is where Galaxy Solar comes in. Headquartered in Nagpur, Galaxy Solar is an acclaimed turnkey solar engineering, procurement, and commissioning (EPC) company. The company is climbing new heights under the aegis of Mr. Shyamal Chatterjee (MD & CEO). His leadership has also curated a social arm, Galaxy Foundation. He also serves as Chairman Committee Renewable at Maharashtra Economic Development Council (MEDC),Secretary of Bengal Solar Federation and Secretary of Mahasolar Sangathan.
He is also the CEO of Aubade Energies Pvt. Ltd. , Carbon Green Solution Pvt. Ltd. and Radiant Power Systems. The following account is based on a conversation we had with Mr. Shyamal, in which he spoke how his company has been a "building block" of India's solar stature.
BEGAN WITH A MAGNANIMOUS VISION
"A big business can start small, but it must have a grand vision." Mr. Chatterjee incepted this company in 2017 with a similar vision. Even though there were over 300 companies registered in the solar sector, it was a promising avenue to explore. People were shifting, even though at a steady rate, towards solar solutions. Subsidies were initiated in Nagpur, which attracted many people towards solar power. So, the time was ripe to enter the market.
Mr. Chatterjee envisioned his venture's footfall in every state to have a PAN-India presence. Simultaneously, he aspired to have a certain niche. This is when he saw a gap in the service structure. He says, "I noticed many companies taking orders and passing them to commissioning and installation vendors that finish the permits on their behalf." This required a significant investment from the clients for the solar plant, and clients would inevitably lose faith." With the focus of changing the scenario, Mr. Chatterjee founded Galaxy Solar.
He planned it as a one-stop-shop for various solar services. The company began with a team of 3 people, but now they are a thriving community of 500+ people with a presence in 25+ states. They have over 30 sales networks across Asia, serving over 1000 customers. Mr. Chatterjee's determination to see his idea through has not only made Galaxy Solar a leader but also a frontrunner in shaping the vision of Green India.
CHALLENGES THAT TESTED THEIR MIGHT
Although starting with a thoughtful mission, Galaxy Solar hasn't had a smooth trajectory. The first challenge was bringing the right people on board. As mentioned, Mr. Chatterjee sought to create footfalls in every state, so instead of taking dealerships, he would take 50% ownership of branches. The second thing that tested his might was market challenges like Demonetization. The cash crunch made it tough to pursue prospects and manage resources on board. "It was tough to hire the right people and keep them engaged, given our disarray."
Since we're in service, keeping a consistent flow of revenue was also a trial itself," explains the MD. While these challenges were meddling with their minds, the company faced tight competition, especially from many big names. Mr. Chatterjee, though, wasn't there to leave. He told clients that Galaxy Solar solely focuses on solar services, in contrast to other companies with diverse concerns. From operations to delivery, they have in-house teams divided into specific operations.
This dedicated approach has given him the critical edge in a cutthroat market. The firm has carved a niche for O&M services. Even though they are a new player in the market, walking the talk in O&M has given them a major upper hand. Their services are known for their unmatched quality and solar plants for scalability and longevity. Due to their excellent services, the firm's expertise spread by word-of-mouth, and now big players choose them over the major ones.
A TRENDSETTER IN VARIOUS ASPECTS
Galaxy Solar has established itself as a pioneer by keeping a close eye on quality and consistently raising the bar for service. While it's constantly leveling up to be abreast of the market, it's well-valued for in-house services in terms of engineering, procurement, construction, and lifelong maintenance of the plant. This niche helped it easily outweigh the impacts of COVID-19.
"We found a lot of prospects in the food and pharma sectors, given that they were thriving and were looking for sustainable solar solutions," says Mr. Chatterjee. Galaxy Solar currently has strong presence across sectors ranging from FMCG, Automobiles, Food, Retail (shopping centers), Education institutes, Synthetic manufacturers, Healthcare & pharma, Finance, Real Estate, and Public Sector.
NOT A TEAM BUT A FERVID FAMILY
Besides trends, quality, and in-house innovations, Galaxy Solar is known for its family-like culture. As per Mr. Chatterjee, it's one of their biggest achievements. The team may be spread across the country, but they celebrate occasions and participate in recreational activities in the same place. They have annual outings and even celebrate cultural festivals as well.
Every location is interconnected with its headquarters, which ensures seamless communication and functioning. The team on board mostly comprises problem solvers that take ownership of their challenges and resolve them while upholding the firm's ethics. This also says a lot about Mr. Chatterjee's leadership. In just five years, Galaxy Solar has become the solar segment's fastest-growing company thanks to its in-depth mastery of the sector. His mindful leadership springs from his compassion for society, which has enabled him to engage in various CSR efforts.
CONTINUALLY BUILDING A PLAUSIBLE ROUTE
Galaxy Solar has had numerous wins over the last 5 years. This includes some of the best projects for Bharti Industry, Sri Sainath Agri Pvt. Ltd., Ashapura Agro Industries, Saibaba Solvent LLP, Shri Ram Food Products, Ramdevbaba Solvent Pvt. Ltd., and so on. It has a record of 850+ solar projects installed across India. Needless to point, the efforts have bestowed upon them prestigious accolades namely:
• "Rooftop EPC Company of the year," East India Annual Solar Awards
• Award from CEO Insights
• 10 Best Cleantech Startups 2021 by Silicon India
• Recognized by DGEF with Right to Energy Day Award
• Associated with JCI Orange City – Colours of India
• Recognized in Agro Vision
• Recognition From Shri Ramdeobaba College Of Engineering & Management
• Recognition From Sungrow
• Recognition From Panasonic
Besides this, the firm is working with several NGOs willing to go solar. "Solar energy can help NGOs cut down on their operating expenses, freeing more funds for their goal to enhance society," says Mr. Chatterjee. They are also focused on enticing areas like integrating PPA into project management. Along with this, they are collaborating with major industry players to introduce EVs. With such notable projects, Galaxy Solar's future is surely pledging.
Must Read:-
The post GALAXY SOLAR ENERGY PVT. LTD. first appeared on Business Connect | Best Business magazine In India.
* This article was originally published here