'It all adds up': Government to finally launch energy-saving campaign, as critics slam 'alarming lack of progress'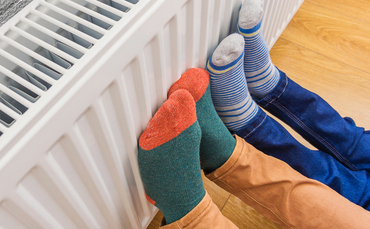 New public information campaign set to go live from this weekend, but business groups warn government is still failing to deliver the reforms that can drive energy efficiency improvements
The government is set to this weekend launch a new public information campaign boasting the strapline 'It all adds up', which will providing advice on how households can reduce their energy use and save money this winter.
The campaign will launch through online ads from Saturday, with TV adverts then expected to run after Christmas and into the New Year.
The budget for the campaign will reportedly reach around £20m, but Ministers are confident it will more than pay for itself given the Treasury is currently providing a multibillion pound subsidy to ensure domestic and business energy bills are frozen this winter. As such, if people use less energy it will result in a lower overall bill for the Treasury.
The campaign is expected to focus on practical steps households can take to curb energy use without compromising comfort and safety through measures such as reducing boiler flow temperatures, installing draught proofing, and turning down radiators in unused rooms.
A dedicated website on gov.uk is set to launch on Saturday alongside the existing Help for Households site, while adverts on radio, print media, social media, and billboards will all aim to boost public awareness of energy saving measures.
The campaign is likely to be welcomed and amplified by energy firms and green groups, which have been arguing for months that the UK government should emulate its European neighbours and call directly on people to take steps to save energy. The political turmoil of the summer saw the government repeatedly resist calls for it to take a more pro-active stance on advising households and businesses on how to save energy. As Prime Minister Liz Truss reportedly rejected proposals for a public energy saving campaign on the grounds it would be too "nannying", while successive Prime Ministers failed to fast track proposals to increase energy efficiency funding.
Today, a new analysis from Imperial College London commissioned by energy giant Drax provides evidence of how this inaction appears to have had a tangible impact on UK gas demand compared to that of its European peers. The report shows how despite soaring fossil gas prices the UK's gas reduction year-on-year was outpaced by Germany, France, Italy, and Spain - with demand for gas actually rising in Britain in September compared to previous years.
In recent months, Germany's demand for gas has been down between 15 and 40 per cent on last year's levels, as the government has enacted a sweeping energy saving and clean energy programme. France, Italy, and Spain have all similarly managed to push gas demand down by more than 10 per cent throughout the summer and autumn. In contrast, UK gas demand was down only fractionally, with much of the reduction attributed to a relatively warm autumn. The report calculated that from September through to end of November, Britain's gas demand was just 0.3 per cent lower than would have been expected pre-energy crisis, when accounting for weather anomalies.
"The UK is an outlier on the world stage, showing no signs of reducing its appetite for gas during a time of dramatically higher prices," said Dr Iain Staffell of Imperial College London, and lead author of the quarterly Drax Electric Insights report. "If temperatures continue to drop during the festive season, managing the energy crisis will be both more difficult and expensive unless people and businesses break their addiction to gas. Turning the thermostat down by just 1C would save households up to £200 a year on their energy bills and save the UK from importing 50TWh of natural gas over the winter - cutting the cost of the government's Energy Price Guarantee by £3bn."
The report also highlights how the government's new public information campaign fails to match the more interventionist measures embraced by other European governments in response to the threat to energy shortages. For example, in Germany public buildings have turned down thermostats to 19C and new rules require that outside illuminated advertising is turned off between 10pm until 6am.
The government's new campaign also comes in the same week as two new reports that provide a highly critical assessment of the UK's energy efficiency policies over the past year.
Chancellor Jeremy Hunt last month announced a new plan to reduce UK energy demand by 15 per cent by 2030, introduce an Energy Efficiency Taskforce, provide £6bn of funding for energy efficiency programmes from 2025, and extend the existing Energy Company Obligation efficiency grant scheme with an additional £1bn of funding. But experts from across the green economy continue to lament the lack of progress on energy efficiency policy.
Yesterday, the UK Green Building Council (UKGBC) published a scorecard assessing the government's progress since it published its Heat and Buildings Strategy in October 2021, comparing the policies that have been adopted with those recommended by UKGBC last year. The analysis concludes that "most of the government's proposals or plans fail to deliver progress towards - or even actively hinder - a net zero carbon built environment".
Writing in the foreword to the report, Julie Hirigoyen, chief executive at UKGBC, said there had been "an alarming lack of progress" from the government on green building policy over the past year. "Most areas are red rated meaning detailed policy frameworks are largely missing, flawed or do not put the UK on the path to meeting our climate commitments," she said. "We have seen baby steps when we need giant leaps."
The report argued that rising energy costs made it even more vital that buildings are upgraded and optimised to curb energy use, and yet it highlighted how "there is no national strategy to decarbonise all our 29 million homes, policy to decarbonise non-domestic buildings has frozen, and draft policy for new homes and buildings standards from 2025 falls far short". Echoing numerous other studies, the report warned there are scant policy measures in place to encourage most households and businesses to invest in improving their energy efficiency; insufficient funding to deliver green retrofits for fuel poor homes; an on-going failure to deliver energy market reforms that would tackle high electricity prices and boost the business case for switching to heat pumps; planning rules that hamper the development of net zero and nature positive buildings; and no clear strategy for tackling embodied carbon in new buildings and incentivising developers to renovate rather than replace existing buildings.
However, the report also stressed that the government now has an opportunity to place building policy at the heart of the update to the UK's Net Zero Strategy that Ministers are required to deliver by April following an order from the High Court following a successful legal challenge against the current plans. UKGBC argued the introduction of a national retrofit strategy, including policies to help owner-occupiers decarbonise their homes, an overhaul of the planning system to support the delivery of net zero buildings, and a tightening of standards to end the construction of buildings that are not fit for net zero could yet put the UK back on track to meet its climate goals, while also slashing energy bills for households and businesses.
It added that every year of inaction meant the UK is missing out on an annual average household saving of over £700 on energy bills; a jobs boom in the built environment sector, which could create an additional 500,000 skilled local jobs over 10 years; and savings to the NHS of around £1.4bn a year as households reap the health benefits of warmer homes.
"The new government has a chance to put things right and the next year is critical," said Hirigoyen. "The size of the prize is huge in terms of saved energy bills, energy security, a massive jobs boom and levelling up and export opportunities. Stepping up action in this area is the definition of smart government and smart investment."
The conclusions from UKGBC were largely echoed in a separate report today from the UK Energy Research Centre, which reviewed the energy policy landscape over the past year and similarly warned the government was not doing enough to tackle an energy crisis that shows little sign of abating.
"War in Ukraine has made 2022 a tumultuous year for energy policy and prices," said Rob Gross, UKERC director. "The government's response has been mixed. Plans to expand renewables such as offshore wind will offer a cleaner and more resilient system - but not yet. Whilst moving swiftly to protect consumers through subsidies was essential, neglect of the demand side was a hugely wasted opportunity."
The report describes energy efficiency policies, including information campaigns, as the "critical gap" in the UK's energy decarbonisation and energy security plans. "This has been true for a decade, but is particularly surprising now, given that high prices make pay back from energy efficiency investments even easier to realise," it states. "Over the last decade, higher building standards have been postponed, and public funding for advice and housing retrofit in England has been cut radically, alongside the energy company obligation (ECO) scheme. Energy efficiency improvements stalled; all these policy failings have worsened the affordability crisis."
However, it also points to insufficient progress in a number of other key areas, including on-going uncertainty over the future of the UK-EU energy relationship, the failure to bolster the resilience of gas storage and infrastructure as the transition towards renewable energy accelerates, underinvestment in industrial decarbonisation measures, and the absence of an overarching strategy to curb road traffic and accelerate the switch to electric vehicles.
In response to the latest criticism, a government spokesperson said: "Improving the energy efficiency of homes is important to tackling fuel poverty and reducing emissions, and that's why we've committed £6.6bn this parliament and a further £6 billion to 2028 to make buildings more energy efficient." They also stressed that the government would consult next year on its approach to the measurement and reduction of embodied carbon in buildings.
For businesses across the green economy, the belated message that energy saving measures 'all add up' will be hugely welcome. The experience from the continent suggests a well-tailored campaign can help people reduce energy use, curb bills, cut emissions, boost energy security, and drive interest in measures that can enhance energy efficiency in the longer term. But critics will note that effective energy efficiency policy measures 'all add up' as well, and for far too long they have been largely absent, leaving the UK more exposed than its neighbours to soaring gas prices.
* This article was originally published here