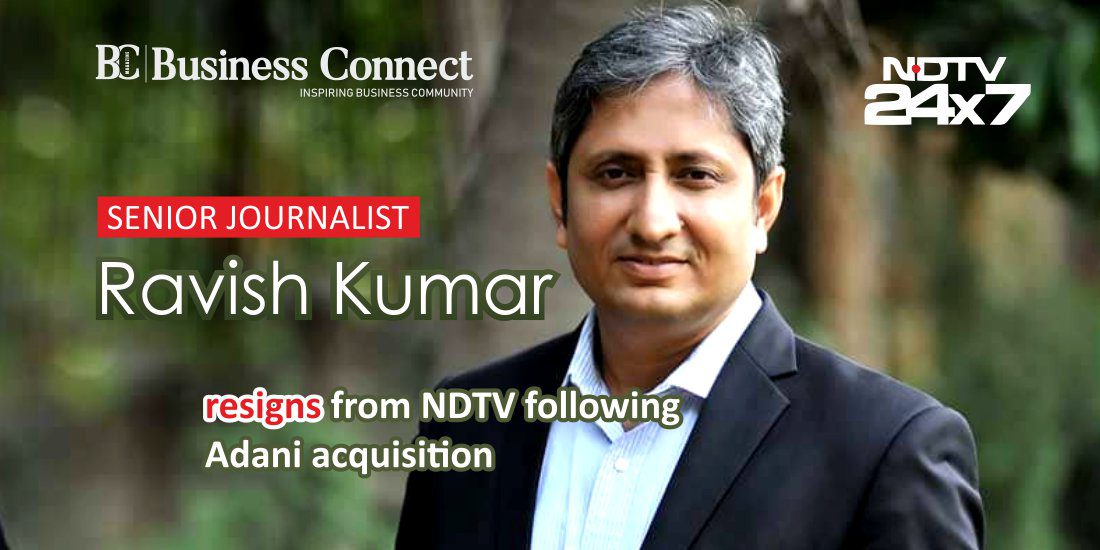 Senior journalist Ravish Kumar resigns from NDTV following Adani acquisition
Ramon Magsaysay award-winning senior journalist Ravish Kumar quit NDTV on Wednesday (November 30), a day after the channel's founders Prannoy Roy and Radhika Roy resigned as directors on the board of its parent entity RRPR Holding Pvt Ltd. Actually, Adani Group has now reached close to the acquisition of this news channel.
The Adani Group acquired over 29% stake in NDTV by acquiring 99.5% in RRPR, the promoter firm through which promoters Prannoy Roy and Radhika Roy held 29.18% in NDTV Ltd.
Ravish Kumar
Indian journalist
माननीय जनता,

मेरे होने में आप सभी शामिल हैं। आपका प्यार ही मेरी दौलत है। आप दर्शकों से एकतरफ़ा और लंबा संवाद किया है। अपने यू- ट्यूब चैनल पर। यही मेरा नया पता है। सभी को गोदी मीडिया की ग़ुलामी से लड़ना है।

आपका
रवीश कुमार https://t.co/39BKNJdoro

— ravish kumar (@ravishndtv) December 1, 2022
Born: 5 December 1974 (age 47 years), Jitwarpur
Spouse: Nayana Dasgupta
Nominations: ITA Award for Best Anchor – News/Current Affairs show, ITA Award for Best News/Current Affairs Show
Siblings: Brajesh Pandey
Nationality: Indian
Education: Deshbandhu College, University of Delhi, Indian Institute of Mass Communication
Children: 2
Ravish Kumar said in his tweet that people can listen to him on his YouTube channel.
NDTV Group Chairperson Suparna Singh in an email to her colleagues reportedly said: "Ravish has resigned from NDTV and the company has accepted his request for resignation with immediate effect".
Suparna Singh, the president of NDTV Group said, "Few journalists have impacted people as much as Ravish. This reflects in the immense feedback about him; in the crowds he draws everywhere; in the prestigious awards and recognition he has received, within India and internationally; and in his daily reports, which champion the rights and needs of those who are under-served (sic)."
"Ravish has been an integral part of NDTV for decades; His contribution has been immense, and we know he will be extremely successful when he starts afresh.
In September 2019, Kumar won the Ramon Magsaysay Award for "harnessing journalism to give voice to the voiceless". Apart from this, he has also been awarded the Ramnath Goenka Excellence Award twice. Ravish Kumar, a very popular journalist in Hindi journalism, hosted many programs during his tenure, including Hum Log, Ravish Ki Report, Desh Ki Baat, and Prime Time.
As we have already mentioned on 29th November the founders of the channel resigned as directors on the board of its parent entity RRPR Holding Pvt Ltd. Meanwhile, the Adani Group's takeover of NDTV is almost complete, with the appointment of Sudipta Bhattacharya, Sanjay Puglia, and Senthil Chengalvarayan as directors on the RRPRH board with immediate effect.
NDTV is one of the Top 10 media houses in India.
Must Read:-
* This article was originally published here