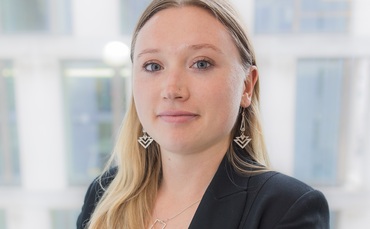 Energy UK's Louise Shooter sets out how the government could unlock an innovative, market-led approach to green home upgrades
In his Autumn Statement, the Chancellor Jeremy Hunt focussed on the role of energy efficiency as a long-term policy response to rising international gas prices. His stance was strongly welcomed by consumer groups and industry alike, including Energy UK, which has long been banging the drum for energy efficiency and the many benefits it can bring.
As the voice of the UK industry, Energy UK represents suppliers responsible for over 95 per cent of the energy delivered to 28 million UK homes, as well as businesses, and continues to work with the government to shape the support that customers will be receiving throughout this winter - and the next.
Energy retail companies will be central to delivering vital support to vulnerable consumers this winter, including through the Warm Homes Discount, the Energy Price Guarantee and home retrofits under the Energy Company Obligation (ECO). These schemes will provide an essential safety net to households facing an average energy bill of £2,500 this winter. In parallel, we must now start to build a sustainable market for green home upgrades that will permanently reduce gas demand - and hence bills - while helping us achieve net zero carbon emissions.
Growing the supply chain is a long-term project
In November, the government launched its consultation on 'Energy Company Obligation ECO+: 2023 - 2026', which will see £1bn-worth of support delivered to low-income households in low EPC rated-housing (D or below). While this scheme is an important first step in growing the number of retrofits taking place, we must go further. The government should bring forward the £6bn pledged in the Autumn Statement so that supply chain capacity for energy efficiency installs can start to grow and so that these interventions can be rolled out as far as possible ahead of next winter, where it is estimated that consumers will be facing an average energy bill of £3,000.
Using data from the Climate Change Committee (CCC), the Construction Industry Training Board (CITB) estimates an additional 350,000 tradespeople will be needed by 2028 to deliver net zero. With a typical apprenticeship in construction consisting of two years' training, and with just over 26,000 apprenticeship starts in the 2021/22 academic year, more needs to be done to bring in and train up the workforce of the future. Recent research by the IPPR (Institute for Public Policy Research) suggested that the majority of these vacancies will be concentrated in constituencies that are current or former industrial centres as well as coastal communities, directly supporting the government's 'levelling up' agenda.
Unlocking an innovative, market-led approach to green home upgrades
As I wrote above, suppliers are at the forefront of providing critical support to consumers this winter, through financial support as well as guidance on how lifestyle changes can help reduce energy consumption in the home. It makes sense that we should build on this trusted relationship between consumers and suppliers, as well as leveraging their expertise and experience gained from delivering the longest-running and most successful Government scheme to tackle fuel poverty - the Energy Company Obligation (ECO) - to put them at the heart of delivering retrofits to a wider consumer group.
To this end, in September, Energy UK published a proposal for a voluntary, supplier-led energy efficiency scheme, which we also called ECO+. This would see energy suppliers delivering energy efficiency measures to households in council tax bands A to D which would be part-subsidised by government and funded through general taxation, with the outstanding cost paid for by the customer.
By making ECO+ voluntary for suppliers to participate in, our proposals would give them more opportunity to develop innovative and competitive customer propositions. For example, a holistic customer offer might consist of pairing ECO+ funding for insulation measures with a grant for a heat pump via the Boiler Upgrade Scheme. The supplier could also arrange for a smart meter to be installed, and offer a flexible tariff so that the consumer can heat their home when energy is cheapest and greenest. Adding solar PV into the mix would help reduce fuel bills even further.
Finance products from commercial lenders, guaranteed by the UK Infrastructure Bank to increase affordability and reduce risk, would increase access to this scheme to a wider group of consumers by spreading out the cost of these measures over a longer period. While whole house retrofits can be expensive, they will ultimately pay for themselves. Not just through making savings on fuel bills, but also by reducing the burden on the NHS associated with poor indoor air quality and cold conditions in homes, by improving educational attainment and productivity, and, of course, by reducing our carbon emissions and the costly impacts of climate change that we are already experiencing.
We must find a way to unlock private investment into the UK housing stock, as it will not be possible to find what the Climate Change Committee estimates to be a £55bn required investment in home energy efficiency to 2050, through government grants and obligations alone. Developing flexible offers, such as Energy UK's ECO+, will also remove barriers to businesses seeking to reduce their energy bills and investing in the sustainability of their premises. Of course, this is just one piece of the puzzle, and a holistic approach would also incorporate fiscal policy that rewards energy efficient homes, support for the construction industry to invest in skills and training, along with tailored, accessible consumer advice and protection.
When it comes to reducing gas demand through energy efficiency, there is clearly no time to waste - especially with little prospect of prices returning to their previous levels anytime soon. The government needs to bring forward their support for the market and kickstart capacity building - along with a market-led approach to household retrofits.
Louise Shooter is policy manager at trade association Energy UK.
* This article was originally published here