'A North Sea energy sector focused on renewables': Scottish Government plots 'just transition' for oil and gas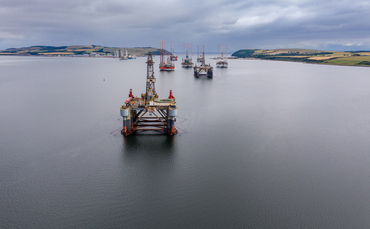 The Scottish Government has set out its vision for a 'just transition' away from oil and gas and towards becoming a net exporter of green energy
The Scottish Government is considering plans to deliver a further 20GW of renewable power and 5GW of hydrogen production capacity by the end of the decade, as part of a sweeping draft energy strategy aimed at delivering a fair and smooth net zero transition for Scotland and its North Sea oil and gas sector.
Published for consultation yesterday, the Draft Energy Strategy and Just Transition Plan set out the Scottish Government's vision for ending the economic dominance of North Sea oil and gas in Scotland over the coming decades, as the government works to turn the country into a net exporter of green energy.
Proposed ambitions in the draft strategy include ramping up Scotland's onshore wind capacity from 8.78GW today to over 20GW by 2030, and delivering an additional 8GW to 11GW of offshore wind capacity over the same period, up from the 1.9GW installed capacity today and the further 3.8GW already consented.
The Scottish Government is also seeking views on what its targets should be for expanding solar, tidal and wave power capacity for the coming decade and beyond, all of which it envisages playing a critical role in supporting its 2045 net zero target and energy export ambitions.
In addition, hydrogen forms a major pillar of the plan, with the devolved administration proposing goals for 5GW of hydrogen production capacity by 2030, rising to 25GW by 2045.
Moreover, the draft strategy reiterates the government's backing for carbon capture utilisation and storage (CCUS) development in Scotland, most notably through the Acorn project in Aberdeen. The project missed out on the first round of financial support from the Westminster government's programme for creating net zero industrial hubs, but Holyrood remains confident it can secure sufficient funding to advance the plans to deliver a CCS hub on Scotland's east coast.
Elsewhere the strategy proposes setting up a national public energy agency - dubbed Heat and Energy Efficiency Scotland - in order to coordinate the delivery of targets to decarbonise heating and insulate homes that are set to be unveiled in a forthcoming Heat in Buildings Bill.
A previous Heat in Buildings Strategy published by the Scottish Government in 2021 included ambitions to ensure all homes in Scotland meet Energy Performance Certificate (EPC) grade C or above and for over one million homes and 50,000 non-domestic buildings to be converted to zero carbon heating systems.
Yesterday's draft strategy also reasserts the Scottish Government's long-held opposition to building any new nuclear power capacity in Scotland "under current technologies", arguing the investment would be better focused on renewables and energy efficiency projects.
"We are clear that the focus must be on developing flexible and renewable technologies rather than new nuclear fission plants, which are expensive and take decades to deliver," said Scotland's Cabinet Secretary for Net Zero, Energy & Transport, Michael Matheson, when announcing the draft strategy yesterday.
On the transport side, meanwhile, the draft plan confirms the Scottish Government's preferred aim to phase out new petrol and diesel car and van sales by 2032, and reduce the number of kilometres driven in private cars by 2030.
A 'Just Transition' for North Sea oil and gas
But much of the strategy focuses on the vision for the future of Scotland's oil and gas production in the North Sea, which the government warned is on course for significant decline over the coming decades, regardless of how rapidly the sector tilts towards decarbonisation.
Oil and gas production in North Sea fields are set to drop to only a third of the sector's 1999 peak by 2035, and to less than three per cent of 1999 levels by 2050, based solely on potential remaining development, rather than climate action considerations, according to the Scottish government.
"This means that domestic production will effectively end within the next 20 years if we do nothing," Matheson told MSPs in his statement to Holyrood yesterday. "The draft Strategy is consulting on whether we should act faster than this. Whatever people's position on the pace at which we move away from fossil fuels, a failure to act now to deliver a just transformation of our energy system would be to neglect our energy security, the future of our economy and risk the kind of damage to industrial communities we saw in the 1980s."
The document therefore includes a draft Just Transition plan designed to support affected North Sea fossil fuel workers and communities, with a vision for maintaining and even increasing the overall number of jobs in Scotland's energy production sector.
Matheson argued that by seizing the opportunities offered by the net zero transition, it would be possible for Scotland to deliver a net increase in total low carbon jobs in the energy sector from 19,000 in 2019 to 77,000 by 2050, even as the North Sea oil and gas sector declines.
To that end, the Scottish government is seeking views on developing a more "robust" climate compatibility checkpoint "based on the presumption of no new exploration in the North Sea".
The UK government last year announced a new 'climate compatibility checkpoint' as part of plans to offer a wave of new exploration licenses to oil and gas firms operating in the North Sea. Ministers insisted the checks would help ensure any expansion in oil and gas production could prove compatible with the UK's legally binding net zero goals. But environmental campaigners slammed the plans, arguing the checks were toothless, did not address full lifecycle emissions from new projects, and provided little assurance that new projects would prove compatible with climate goals.
The Scottish government conceded it did not hold all the powers necessary to deliver on the draft strategy - with several of its proposed goals and policies dependent on actions from the UK government in Westminster - but it stressed that it planned to invite the UK government to take part in a new Energy Transition delivery group to help drive its plan forward.
However, while hailing the "vast contribution" of the North Sea oil and gas industry and its skilled workers to the economy, the Scottish government's Just Transition Minister Richard Lochhead warned "Scotland's oil and gas basin is now a mature resource".
"A just transition to a net zero energy system will secure alternative employment and economic opportunities for those already working in the industry and will provide new green jobs in Scotland for future generations," he said. "Embracing this change will ensure we avoid repeating the damage done by the deindustrialisation of central belt communities in the 1980s.
He added: "There is a bright future for a revitalised North Sea energy sector focussed on renewables."
Competing visions with Westminster
However, the vision set out for the North Sea in Scotland's and the UK's future economy appears to differ significantly from that of the UK government in Westminster, which as part of its Energy Security Strategy is aiming to expand oil and gas production in the coming years.
Inevitably, yesterday's draft strategy has also sparked concerns within the North Sea oil and gas sector itself.
Jenny Stanning, external relations director at trade body Offshore Energies UK, welcomed the emphasis on hydrogen and CCUS in the draft strategy, but stressed that "we are concerned at the statement's suggestion of accelerating the decline in oil and gas production".
As Scotland receives 79 per cent of its total energy from hydrocarbons, including for heating, electricity and transport, Stanning argued "we will need gas and oil for decades to come", adding that the sector currently supported 90,000 jobs.
"So we need to ensure that the final strategy acknowledges the continuing role of oil and gas in Scotland's energy security and economy - as well as our sector's role in a rapid transition to a low-carbon future," she said.
Many questions remain as to whether the Scottish government can deliver on a strategy that will inevitably rely on a significant level of consent, funding and regulatory support from Westminster at a time when Holyrood and Number 10 are at odds politically on a huge range of issues. Moreover, the political and technical challenge of effectively winding down the fossil fuel industry that has underpinned much of Scotland's recovery and carving out a position as a global pioneer in the net zero transition is not to be underestimated.
But Scotland's First Minister Nicola Sturgeon now has an admirably clear vision for the future of Scotland's energy sector, and indeed its wider economy. It is a future that is almost entirely reliant on renewables and clean technologies, with little room for fossil fuels.
* This article was originally published here