Wednesday, January 11, 2023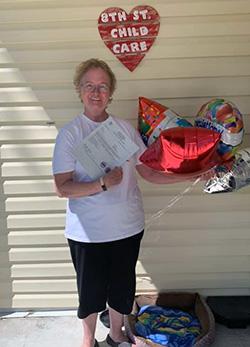 Diane Hernandez knows from raising her own four children and one grandchild how hard it is to get quality childcare in her small, rural town of Julesburg, Colo.
So after retiring from retail management, she decided to take a leap of faith and opened a home-based, licensed childcare business in January 2020.
She worked through the COVID-19 pandemic knowing that children of essential workers desperately needed her services. She also recognized that as a rural small business she was important to the local community and played a vital role in the local economy.
As pandemic lockdowns began, she struggled to find the necessary funds to keep her business running. Reduced enrollment of infants meant reduced income and like many childcare providers, she had to act fast to stay afloat.
She applied for grants anywhere she could, filling out loads of paperwork and spending a great amount of time to ensure her paperwork was accurate and turned in on time. Although she applied for multiple grant programs in her county, she was denied because the funds were not available to home-based businesses. Despite these hurdles, she persevered in her search for financial assistance and eventually found state-level funding that got her through an extensive period of time, until she was able to boost her enrollment.
Fifty-one percent of Coloradans live in a childcare desert, and Julesburg isn't an exception: Diane's small business is the only childcare provider in town. Although there are other facilities that offer preschool classes, these only operate during the school year calendar.
Given the increasing need for childcare providers in her area, Diane doesn't have to worry about enrollment anymore. However, other issues like supply chain disruptions continue to weigh heavily on her mind. The result of living and working in a rural area means that the supplies she needs are even harder to access. Finding time to leave town or shop for childcare products is almost impossible, especially since her business is open 6 days a week, from 6:00 am to 6:00 pm. Taking time off to address supply needs is challenging and leaves her with no other choice but to pay exorbitant online shipping expenses.
Diane wishes there was better widespread understanding of what goes on in licensed childcare centers. She says many people are misinformed about childcare, and comments about her being just a babysitter are frustrating. She works to provide enriching classes for the children in her care, preparing them for Pre-K and Kindergarten, and hopes that her industry will be acknowledged and appreciated in the near future.
Even though Diane started her childcare business much later in life, she says that she is "glad I started on this adventure. I have learned so much over the years and I'm grateful to have shared many special days with the children in my care who want nothing more than to be loved, to learn, and be children at play."
When asked about advice she would give to other rural childcare providers in Colorado, she says, "Make sure to understand your financial situation and make plans to have adequate time off for your own wellbeing." She believes that the old saying, "You can't care for others, if you don't care for yourself first," truly applies in this industry.
Small Business Profile
* This article was originally published here