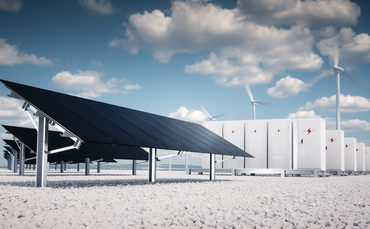 Major reform package aims to drive investment in energy storage, flexible grids, carbon capture and storage, and hydrogen projects
The government has today unveiled sweeping plans to reform the electricity market to help decarbonise the back up systems that provide power during periods of low renewables generation.
The Department for Business, Energy, and Industrial Strategy has today formally launched a consultation on proposed reforms to its Capacity Market, which provides incentives to electricity providers to ensure security of supply is maintained. The potential changes to the market are designed to boost investment in cleaner alternatives to the gas-fired power stations that currently dominate the market, including energy storage systems, flexible grid services, and power plants that make use of carbon capture storage (CCS) or hydrogen technologies.
The Capacity Market operates through a series of competitive auctions that are designed to ensure there is enough reliable capacity to meet Great Britain's peak electricity demands, so as to safeguard against the possibility of future blackouts.
Firms bid for contracts which require them to ensure an agreed level of capacity is available at given times, providing sufficient back up to ensure the grid remains reliable during periods of peak demand or low renewables output.
The Capacity Market provides contracts to a range of different technologies, including emerging energy storage and demand response services. But some operators have long argued that the auction system tends to favour larger fossil fuel-based generators over distributed low carbon technologies.
As such, the government said the new consultation would explore a range of reforms and action plans to "ensure the scheme keeps pace with this transition to cleaner energy sources and technologies - often cheaper than fossil fuel counterparts - and can support the delivery of a decarbonised power system by 2035, without compromising security of supply".
"As we move towards cleaner and cheaper energy, it is essential that the UK provides secure and affordable energy for all," said Energy and Climate Change Minister Graham Stuart. "The plans set out today will deliver this reliable energy and ensure the scheme that sits at the heart of Britain's energy security is fit for the future."
Specifically, the consultation will put forward plans for new contracts for low carbon technologies to better incentivise their participation in Capacity Market auctions, new timelines and requirements for oil and gas generators to reduce emissions from 2034, and measures to strengthen the scheme's ability to deliver security of supply in times then the electricity system is under stress.
Responding to long-standing calls from energy storage and flexible grid providers, the government is proposing that projects that provide low carbon back up to the grid, such as smart 'demand side response' technologies and smaller-scale electricity storage, could be offered multi-year contracts for the first time, providing investors with greater certainty. The reforms could help better incentivise businesses to take advantage of demand response services where they receive payments if they agree to curb energy demand at times when the grid is under pressure.
Significantly, the consultation also sets out plans for tighter emissions limits for those gas and diesel-based generators supported through the Capacity Market that would come into effect from October 2034. The government said the new standards would send a clear signal to oil and gas generators on the timelines and requirements for emissions reduction in the 2030s and help drive investment in CCS projects.
BEIS said the plans would mean that "all new oil and gas plants receiving long term agreements through the Capacity Market will be obliged to lower emissions, through decarbonising their capacity by introducing carbon capture, hydrogen and other low carbon methods into their generation and by reducing running hours".
The consultation also features a call for evidence on potential barriers to decarbonising gas and oil power plants, new proposals to strengthen performance testing to ensure generators can deliver winter capacity as promised, and plans to strengthen the non-delivery penalty regime for firms that fail to deliver capacity at times when the electricity system is under stress.
The proposals were welcomed by Dan McGrail, chief executive at trade body RenewableUK, who hailed the consultation as "an important step" towards the government's goal of delivering a net zero emission grid by 2035. "We need to incentivise more investment in new low carbon flexibility in our modern energy system based on renewable technologies including wind, solar, tidal stream and green hydrogen," he said. "This will strengthen the UK's energy security, enabling us to move closer towards energy independence in the years ahead."
The consultation forms part of the government's wider Review of Electricity Market Arrangements (REMA), which is continuing to explore proposed reforms to try and decouple wholesale power prices from wholesale gas prices so as to curb bills and further incentivise investment in clean technologies. It is also designed to complement the planned introduction of new 'business models' that are expected to mobilise investment in a new fleet of CCS and hydrogen projects across the UK.
The move also comes ahead of an anticipated update from Chancellor Jeremy Hunt who is this week expected to confirm that the government will scale back energy bill support for businesses from April.
The Treasury is set to confirm that it will extend the Energy Bill Relief Scheme and provide a further £5bn of support. But the current approach of effectively freezing business bills will end, to be replaced by a smaller discount on each unit of gas and electricity non-domestic customers use.
The Treasury maintains the current approach is unaffordable and a recent fall in wholesale gas prices should minimise the impact on businesses. Targeted support is also expected for some energy intensive industries.
But business groups are expected to respond angrily to the changes, amidst warnings that some energy intensive firms and small businesses could be forced to reduce output or shut altogether if energy bills increase further.
* This article was originally published here