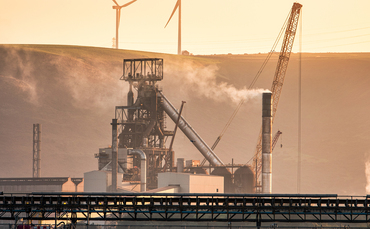 But the steel producer and trade unions call for urgent action and policy support to develop low carbon steel production in the UK if climate goals are to be met
The UK may need more than 10 million tonnes of steel over the coming years if it is to become more energy self-sufficient and deliver the raft of clean technologies and infrastructure needed to achieve net zero emissions, underscoring the urgent need to decarbonise production of the metal, according to Tata Steel.
The steel producer claims in fresh research released last week that huge quantities of the metal will likely be needed to build thousands of offshore wind turbines, solar farms and nuclear power plants as well as infrastructure for hydrogen production and carbon capture (CCS) projects if the UK government's climate and energy goals are to be met.
The government's Energy Security Strategy released last year sets out a raft of ambitions for growing offshore wind, floating wind, solar power and nuclear capacity, as well as for expanding oil and gas production in the North Sea.
And in order to deliver on the Strategy's goals, Tata Steel estimates more than five million tonnes of steel may be needed for the construction of wind turbines at sea alone by 2030, while planned solar and nuclear power plants are expected to require about 3.5 million tonnes. Moreover, an estimated 1.5 million tonnes of steel is needed to build infrastructure for hydrogen production and distribution as well as large-scale CCS projects, as well as yet more steel to unlock new sources of oil and gas from the North Sea, according to the research.
However, Tata Steel stressed that if the UK is to deliver the huge quantities of steel required for the vast amounts of planned clean energy infrastructure over the coming years while also meeting it statutory climate goals, urgent action is needed to develop low carbon steel production in the UK.
Tata Steel UK chairman Henrik Adam stressed that, in the wake of the pandemic and Russia's invasion of Ukraine, it was "crucial" for the UK to build a more secure energy supply, which he argued "will need an energy revolution in this country requiring millions of tonnes of steel to build new energy generation projects".
"A strong domestic and secure steel industry is also fundamental to delivering the UK government's ambitious energy plans," he added. "But if British manufacturers are to supply the essential steel and continue to employ many thousands of people in this country, we need to invest and transform this strategically-important industry so it can make carbon-neutral steel."
Global investment and development of low carbon steel production methods - such as by replacing coal-fired furnaces with hydrogen and electric alternatives - has rapidly intensified in recent years, but critics have repeatedly warned that the UK risks slipping behind other European countries in the drive to decarbonise the sector.
Adam warned that the UK steel industry was now at a crossroads, and that without rapid action it risked falling into declined with the future economic benefits of steel production drifting away to other countries abroad.
Tata Steel's calls were also backed by steel trade unions and trade bodies.
"The green energy revolution presents a huge opportunity to build a robust British supply chain based on the supply of top-quality domestic steel," said Roy Rickhuss, general secretary of trade union Community and chair of the National Trade Union Steel Coordinating Committee (NTUSCC).
"The events of the last two years tell us Britain cannot rely on fragile global supply networks for strategic goods, and if we want to go green it is nonsensical to transport steels from the other side of the world. Not only will using Britain's steel be crucial to meeting our climate objectives, it will support thousands of good jobs and steel communities across the country. Steelworkers look to the government to support investment in green steel and do more to ensure that British jobs benefit from taxpayer-backed energy projects."
The steel sector currently employs 33,700 people directly in the UK and supports a further 42,000 indirectly through its purchase of goods and services, with most jobs concentrated in Yorkshire & the Humber region, and Wales where steel wages are 59 per cent above the regional average, according to trade body UK Steel.
However, the sector has faced major challenges in recent years in the face of competition from cheaper competitors abroad, while investment is urgently needed to develop lower carbon alternatives to its widespread reliance on coal power, which makes the sector one of the UK's biggest greenhouse gas emitters.
It comes amid reports this week in The Financial Times that the Chancellor Jeremy Hunt is considering launching a taxpayer subsidy worth £300m to help save troubled firm British Steel's two blast furnaces in Scunthorpe. However, talks between the government and British Steel - which is owned by Chinese company Jinye - are reportedly ongoing with several options still be considered, according to the newspaper.
The two British Steel owned furnaces are in Scunthorpe on the east coast of England. They are two of four furnaces currently operating in the UK with the other two owned and operated by Tata Steel at Port Talbot in Wales.
Also commenting on Tata Steel's research last week, Gareth Stace, director general of UK Steel, argued the UK steel industry sat in "prime position" to supply steel for new UK energy infrastructure, which he said could help to maximise jobs and the economic growth across the country.
"The UK already has the largest offshore wind sector in the world, but with a target to increase capacity by 400 per cent this decade we are only just getting started," he explained. "Opportunities have been missed in the past to establish a full UK supply chain for this sector, but with so much growth still in front of us, this is the time to get this right. Similar opportunities exist in our expansion of nuclear, solar and the roll-out of CCS and hydrogen networks."
He added: "Producing UK energy from UK steel is the green industrial revolution in practice, creating green jobs, economic growth and levelling up."
* This article was originally published here