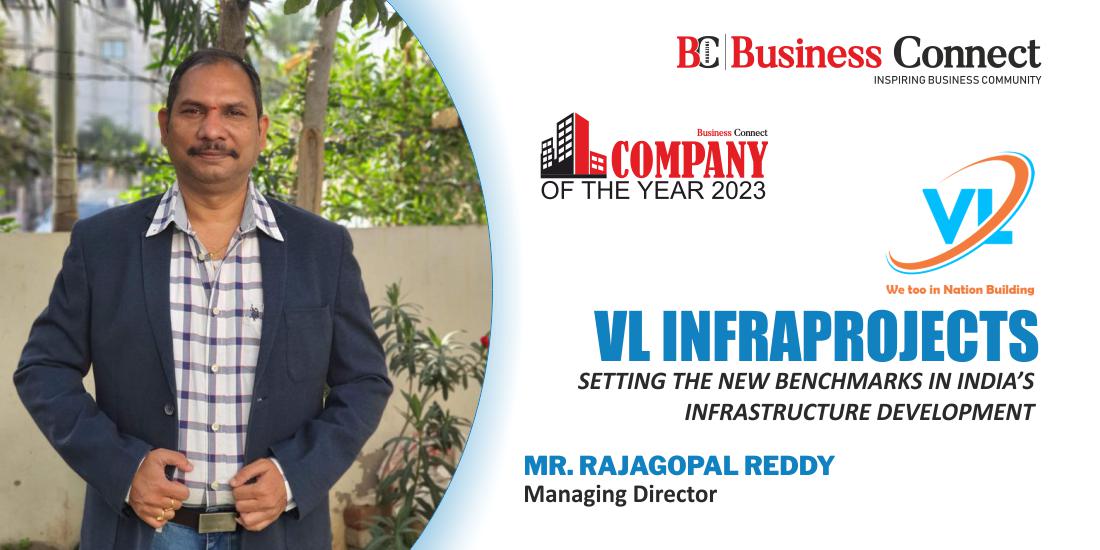 VL INFRAPROJECTS
SETTING THE NEW BENCHMARKS IN INDIA'S INFRASTRUCTURE DEVELOPMENT
India is among the world's marketplaces with the fastest-growing firms for infrastructure development. Additionally, businesses must direct all of their attention to boosting the standards as clients and the economy increase demand and tighten project specifications.
One of the prominent solution provider companies in Infrastructure Development, VL Infraprojects Pvt. Ltd. is meticulously working towards bringing remarkable changes in the construction of various plants like treatment plants, water supply projects, and pipeline projects, setting new standards in infrastructure development.
Since its incorporation in 2014, the infrastructure firm has offered a variety of infrastructure-related services, including pipe laying, jointing, and commissioning, as well as the building of roads, sewers, and RCC retaining walls. What initially began as a modest push into water pipeline projects with a focus only on Gujarat has since expanded to include all kinds of road, irrigation, water, and environmental projects with a presence in Gujarat, Madhyapradesh, Telangana, and Karnataka etc.
The company's revenue increased from 4.05 crores in the 2014–15 fiscal year to 35.60 crores in the 2021–22 fiscal year. VL Infraprojects has a wide range of clientele, namely Gujarat Water Supply and Sewerage Board, Narmada Water Resources, and Madhyapradesh Nagarpalikas etc.
VL Infraproject's only goal is to become and remain the most valuable infrastructure development company by providing goods and services that adhere to international standards and thus add value. With the commitment to quality, dependability, timeliness, and serving the customer above and beyond expectations, whether it is profitable or not, VL Infraprojects is the best at creating iconic solutions, producing profitable growth, and bagging the title of the leading infrastructure firm.
NOTEWORTHY EXECUTIVES OF VL
A. Rajagopal Reddy, Managing Director
The man behind the idea, Rajagopal Reddy, is spearheading VL in the key positions of MD. He has 24 years of exceptional expertise in water infrastructure (Business Development & Execution of Projects). In academics, Mr Reddy holds a degree in engineering and an MBA with a concentration in construction management.
A. Mydhili Reddy, Director
The earlier proprietor of VL Infrastructures and now one of the directors of VL, A Mydhili Reddy, holds a degree in commerce and has 15 years of extensive expertise in the infrastructure sector.
R. Nageswara Rao, Director
Another leading man at VL, R. Nageswara Rao, holds a degree in commerce and is responsible for the company's accounts, taxation, etc. He has a lot of professional experience.
Overcoming the Obstacles on the Way
Being an entrepreneur and running your own business is no piece of the cake. It is full of challenges. The major hurdle Mr Rajagopal had to go through was leading his business without any family background. Definitely, the person who comes from a non-business family and does not have an excellent financial background will face obstacles in the initial days. Having positive relationships with their customers and the other employees of the infrastructure company helped them in that situation and powered their growth.
Dignitary Awards & Achievements
In the first year, VL Infraprojects began its journey with a 4.05 crore turnover in 2014-15, then it reached around 35.40 Crore turnover in the last year, 2021-22. The company has also been recognised as the "Fastest Growing Indian Company" by the International Achievers Conference.
The Dedicated Team behind VL Infraprojects
Proudly sharing about his team, the visionary leader apprised, "Definitely without a workforce, nothing is possible. We fulfil the requirements timely to our employees; we provide medical insurance and group insurance, and whenever they need support, we are there for them."
The Future Outlook of Industry & VL Infraprojects
The higher growth rate expectations are based on the likely better performance from the manufacturing emanating from strong consumer demands. Significant investments in infrastructure development, as well as a strategy for investments in road, rail, air, and water transportation, electricity production, transmission, and distribution, telecommunication, and other sectors, are necessary to reach and sustain the predicted growth levels.
Given the limited government resources available, the proposed development would require significant infrastructure investments, which would be made by fostering public-private partnerships. VL Infraprojects aims to surpass the 100-crore turnover threshold and reach a personnel strength of 100 by 2024–2025. Additionally,
it seeks to contribute to the nation's vision of itself as a developed country and so adds value to society.
Words of Wisdom
"We should not let ourselves down in the hard situation, and try to come up from the struggles, should be strongly addressing the situation by retaining the good relations and commitment to our pledges," Mr Rajagopal Reddy said.
Must Read:-
<p>The post VL INFRAPROJECTS first appeared on Business Connect | Best Business magazine In India.</p>
* This article was originally published here