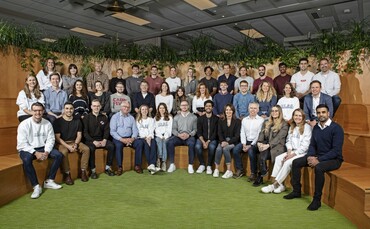 The e-commerce giant is inviting early-stage sustainability start-ups to apply for the latest round of its accelerator programme
Tech and retail giant Amazon has announced it is today launching the second round of its Amazon Sustainability Accelerator - a 12-week bespoke programme which is designed to help green start ups expand their businesses.
The programme is run by Amazon alongside the European climate innovation hub EIT Climate-KIC and UK-based climate NGO WRAP.
Amazon said the second phase of the programme is now open to applications and is particularly seeking start ups that are working to create more sustainable consumer products or develop new technologies which can help the industry to recycle products more effectively and efficiently.
"Innovation is in Amazon's DNA and through Amazon Sustainability Accelerator, we're looking for sustainability-focused entrepreneurs ready to scale their business and shake up their industries," said John Boumphrey, UK country manager at Amazon. "The Accelerator is open to entrepreneurs across Europe and I'd love to see the UK's talent and innovation represented amongst the shortlist."
Last year's Accelerator participants, which included nine companies from the UK and Ireland, raised £4.5m in investment and increased sales by an average of more than 250 per cent following their participation in the programme, Amazon said.
The programme accepted 12 of the 1,300 applications, including SURI - a UK-based start up which designs, manufactures and sells electric reusable and repairable toothbrushes with replacement heads that are made from plant-based materials.
The company's co-founder, Mark Rushmore, said the Accelerator added "enormous value", helping the business to grow from "zero revenue to significantly over £1m in a short period."
Amazon said the programme includes in-person and virtual workshops, mentorship, a tailored curriculum, as well as access to a network of like-minded founders.
This year's participants will receive a financial boost through a £10,000 equity-free grant and $25,000 worth of AWS Activate Credits, Amazon said.
They will also meet and work with Amazon leaders and scientists from its Sustainability, Circular Economy, Product Sustainability, and Climate Pledge Fund teams, and receive access to free office space at Amazon's headquarters in London and Berlin.
The company said this year it was keen to welcome start ups to the programme which are focused on building products that can be used to help people live more sustainably. It said successful products should be quantifiably more sustainable than existing products, such as being made with more recycled or upcycled materials, made with reduced carbon emissions, or able to help consumers reduce, reuse, or recycle materials.
At the end of the programme, successful applicants will have the opportunity to pitch their business to an audience of seasoned investors to help them build connections and raise further funding.
"We are delighted to be working with Amazon to help scale up its sustainability efforts through the Accelerator," said Richard Swannell, Interim CEO at WRAP. "This expert support will be invaluable for many start-ups at a critical time in their development and help to fast-track our next generation of sustainability innovators. Our vision is a thriving world in which climate change is no longer a problem, and this programme will help sustainable product development and improve recycling infrastructure. Both are key in delivering the circular economy we so urgently need."
Dr. Kirsten Dunlop, chief executive at EIT Climate-KIC, said the accelerator was an example of the kind of "radical collaboration" required to "connect innovative solutions to one another and shape new markets to bring about bold systemic change".
"Our Accelerator programmes set out innovation challenges that encourage entrepreneurs to put these systemic challenges at the very heart of their business solutions," she added.
The deadline for applications is March 2023 and all successful applicants will be announced in the Spring.
* This article was originally published here