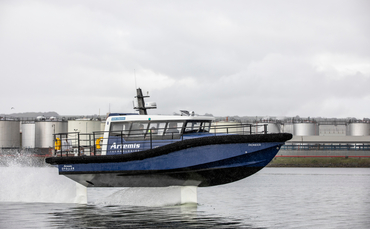 Funding awarded to 10 firms to help UK retain position as 'pioneer in cutting-edge clean maritime solutions'
Electric hydrofoil boats, hydrogen powered ship engines, and on-board carbon capture are among a raft of clean maritime projects awarded a share of £60m government funding today as part of its aim to establish the UK as "a world leader in green solutions".
The Department for Transport (DfT) said the funding, awarded to 10 companies around the UK working on green maritime technologies, would help speed up progress towards the UK's climate targets while creating new high-skilled jobs.
Transport Secretary Mark Harper said the UK's maritime sector imported 95 per cent of goods into the UK and contributed £116bn to the economy last year - more than both aviation and rail combined - and that it was therefore critical to support its journey towards a net zero future.
"With growing the economy one of the government's top priorities, we must continue our efforts to ensure the UK remains a pioneer in cutting-edge clean maritime solutions," he said. "The funding we're awarding today will help to do just that, bringing emission-free concepts to life and fuelling innovation."
Harper's comments came as he visited one of the winning bidders for funding, Belfast-based Artemis Technologies, to see how the firm intends to use its grant to scale its electric hydrofoil vessel technology, which it claims enables boats to effectively 'fly' above the water surface while producing a fraction of the emissions of regular vessels. A 11.5-metre prototype vessel developed by the company has been shown to produce zero emissions and use 90 per cent less energy when foiling.
The funding has been awarded as part of the third round of the government's Clean Maritime Demonstration Competition, and is set to be spread across 12 regions of the UK over a two year period.
Artemis Technologies CEO Dr Iain Percy welcomed the funding support from the government. "With this latest round of funding, we are emboldened to advance our green technology projects, develop world-leading clean vessels for our seas, and continue on our mission to lead the decarbonisation of maritime," he said.
Other winners include a project led by Collins River Enterprises Limited to build and test a brand new fully electric ferry on the River Thames between Canary Wharf and Rotherhithe, building on research funded through the first round of the competition.
Another project led by AceOn Battery Solar Technology Ltd is geared towards developing hydrogen-powered vessels to transfer crew to wind farms off the northeast coast of England from the Port of Blyth, according to the government.
Meanwhile, WingTek are also set to receive funding to develop and demonstrate two full-sized prototypes of wind-assisted ships with high tech sails, in a bid to reduce the amount of fuel used by the vessels as well as the emissions they produce.
The Clean Maritime Demonstration Competition forms part of the broader UK Shipping Office for Reducing Emissions (UK SHORE) scheme, a project launched by Ministers almost a year ago that aims to spend £206m on research and development of clean maritime solutions.
* This article was originally published here