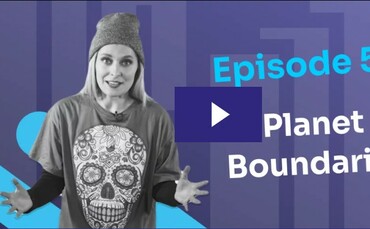 AXA Climate debuts light-hearted video series designed to engage staff with climate change, biodiversity, and how to help 'eco-anxious' colleagues
AXA Climate has unveiled what it describes as a "quirky content series", titled Climate Brief, which aims to better engage staff from a wide range of businesses with sustainability issues.
The subscription-based product is designed to support organisations efforts to encourage green behaviour change across their business by translating complex environmental issues into a digestible video format.
The series, which can be white-labelled by corporate clients, comprises short videos released as five-minute episodes on a range of topics, including climate change, biodiversity, and how to help "eco-anxious" colleagues.
The bite-sized content has been created in tandem with a range of experts and the AXA Climate science team, with season one delivering episodes on adaptation, maladaptation, the Taskforce on Nature-Related Financial Disclosures, eco-anxiety, planetary boundaries, and heat waves.
Each episode is available in both English and French, and is accessible at any time on any device.
AXA Climate - the skills and training arm of the global insurance giant - said it planned to launch three seasons of the new series each year.
AXA Climate training VP, Antoine Poincaré, described Climate Brief as a complementary offer to the body's dedicated Climate School training.
"It helps to engage employees within organizations around sustainability in a different way, specifically those employees that are harder to reach," he said. "Our resources make it easy to engage colleagues in the long term, before or after they complete a training program.
"We enable the organisations we work with to become more environmentally sustainable at every level with accurate content that is smart and engaging."
AXA Climate already provides more than 40 hours of digital training content on climate change challenges to companies and public and educational organisations via its Climate School, as well as offering consulting services to the agri-food, industrial, financial, and public sectors.
According to AXA Climate, more than 90 organisations have joined the Climate School to date, making it accessible to more than four million people globally.
* This article was originally published here