In recent years, AI has become a vital part of customer service for many businesses. With the rise of Artificial Intelligence, call center software has evolved to include advanced features that enable businesses to provide top-notch customer service, improve agent productivity, and increase operational efficiency.
The best AI call center software offers a range of functionalities such as natural language processing, sentiment analysis, call routing, and real-time transcription.
In this article, we will take a closer look at some of the top AI call center software solutions available on the market today, highlighting their unique features and benefits to help you make an informed decision for your business.
1.
Dialpad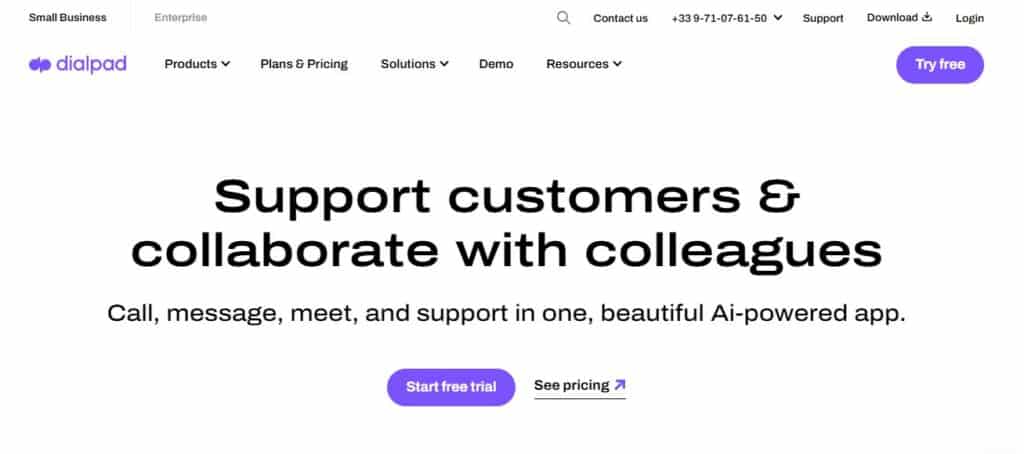 Dialpad is a cloud-based contact center software solution that lets you manage your call center team from anywhere. With Dialpad, you don't need any hardware or server closets – everything is done through your account.
One of the standout features of Dialpad is its massive scalability. You can easily add or remove contact center agents and manage their phone numbers – all within your Dialpad account. Meaning you need to worry about shipping equipment or finding office space.
Dialpad also makes call routing simpler with its interactive voice response feature. You can set intuitive routing rules for your IVR so customers can self-service and connect with the right person or department quickly. This takes the manual call routing work off your agents, giving them more time to focus on delivering excellent customer service.
And speaking of customer service, Dialpad provides robust call analytics and reporting tools so you can track key metrics like call volume patterns and call times. This allows you to continuously optimize every step of the customer journey for maximum satisfaction.
But what if you can't monitor every customer interaction in real time? That's where Dialpad's artificial intelligence technology, Dialpad Ai, comes in. Basically, it transcribes calls in real time and shows supervisors the sentiment for each active call. They can view all calls, identify those with negative sentiment, and scan the live transcript to get full context before deciding whether to intervene.
Dialpad also offers advanced workforce engagement management (WEM) capabilities, such as real-time agent forecasting, quality management, scheduling, and more. And when you combine Dialpad with Playvox, you get everything you need to improve agent productivity and maintain contact center performance.
Finally, cloud-based contact center solutions like Dialpad offer greater cost efficiencies compared to traditional contact center technology. From lower hardware costs to predictable, fixed pricing models, you can expect to save money with a cloud option.
It's also worth mentioning that Dialpad has been recognized as a Visionary in the Gartner Magic Quadrant for UCaaS.

Visit Dialpad
2.
Nextiva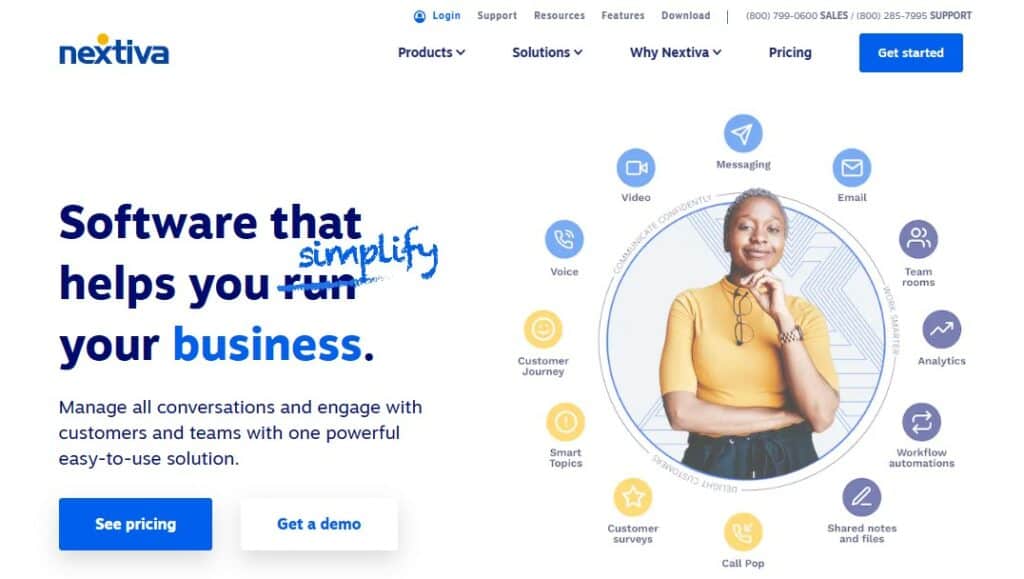 Nextiva call center software is a platform that offers a complete solution for your virtual communication needs. Unlike traditional phone banks, Nextiva's VoIP-powered software allows your call center to be as centralized or distributed as you want. Nextiva is known as the gold standard for business communication, providing internal collaboration and call center software all in one place.
Nextiva uses AI to provide automated assistance to customers. Unlike traditional text only chatbots, Nextiva empowers you with conversational AI powered by natural language processing and machine learning to provide more complex assistance to customers.
This conversational AI allows customers to hold genuine conversations with the chatbot, which can learn about their sentiment and needs during the conversation. Nextiva's AI software has many benefits for contact centers, including freeing up staff to work on more complex issues, improving response times, speeding up staff training, identifying upsell opportunities, reducing the risk of errors, and all that good stuff.
One of the biggest advantages of using Nextiva is its cloud-based system that can handle an unlimited number of inbound calls. With the ability to handle 525 calls in the queue, your agents can be located anywhere. The software comes with actionable voice and business analytics, allowing you to uncover valuable insights into company call activities and real-time performance.
Nextiva's call center solution is perfect for boosting your operations and ability to field calls. It comes with smart routing, auto-attendant, and CRM integration, all designed to help your team handle more inbound calls with ease. You can customize dashboards and wallboards to drive performance across every aspect of your organization.
The software is super easy to set up and comes with several features that can be added on, such as call recording, automatic call distribution, call analytics, desktop softphone & mobile app, and intelligent call routing. Nextiva also has customer satisfaction surveys, which allow you to gather feedback from your customers at any stage of their journey.
If you want to get the most out of your call center, Nextiva is the way to go. With its advanced features and VoIP-centered approach, you can create a customized experience that fits your business needs.

Visit Nextiva
3.
Nice CXone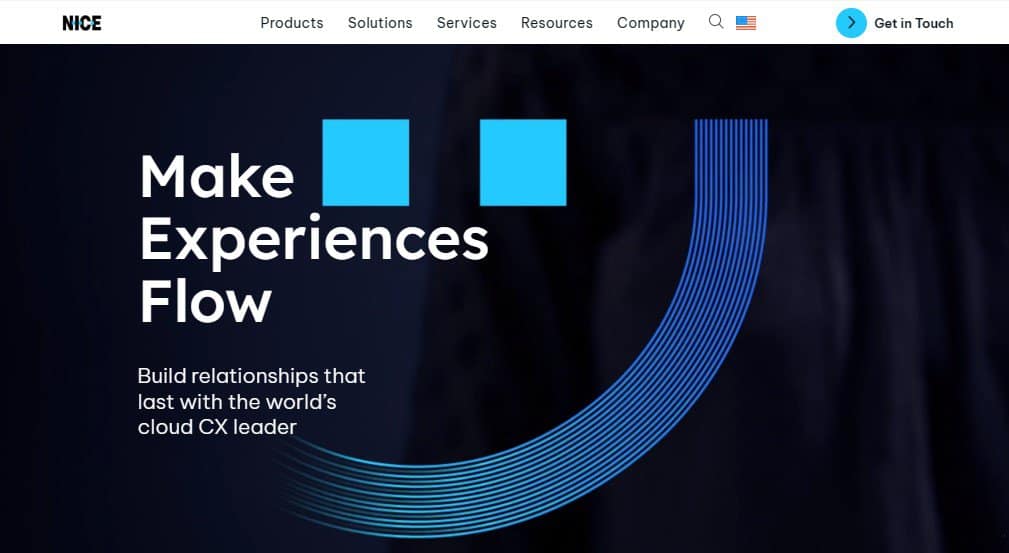 Nice is another AI-powered call center software that helps businesses deal with customers in a better and more efficient way.
It helps businesses save money while delivering high-quality customer service across multiple channels like voice calls, emails, chats, and social media. With CXone, you can run your call center operations with ease, thanks to its unified suite of applications that incorporate 'smart' capabilities end-to-end, including AI and automation.
CXone offers omnichannel routing that empowers agents to positively interact with customers in digital and voice channels. Its workforce optimization solutions unlock your team's potential by promoting self-improvement and enhancing quality management efforts, ultimately reducing labor waste.
CXone's automation and AI technology eliminate mundane tasks and speed up customer issue resolution, resulting in better business outcomes. The platform provides self-service, agent-assisted, and fully automated alerts and actions, freeing up time to make decisions that enhance customer service and business outcomes. With pre-defined CRM integrations and UCaaS integrations with most leading solutions, CXone provides a holistic call center software solution suitable for businesses of all sizes.
Basically, if you want to make sure your customers have a great experience when they interact with your company, Nice is the way to go. It's used by thousands of businesses of all sizes all around the world.

Visit Nice CXone
4.
Bright Pattern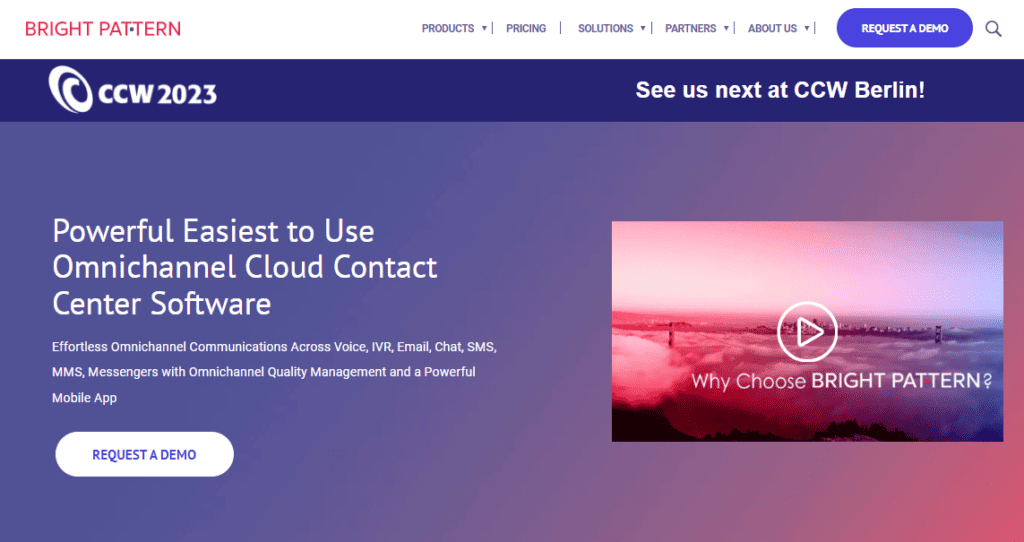 Bright Pattern is a cloud-based software that helps businesses manage their customer service more efficiently. It lets companies handle different communication channels like calls, emails, chat, and social media – all in one place.
Bright Pattern also comes with advanced AI features. For example, it can speed up customer service and reduce wait times by using speech recognition and voice authentication. And when you do need to speak to a real person, the virtual assistant can connect you to an agent in real-time. Plus, AI can help agents during customer interactions by suggesting solutions to problems or identifying the customer's mood.
Another thing that's great about Bright Pattern is that it offers quality assurance on all interactions, no matter which channel they happen on. Managers can monitor customer interactions and agent performance, and intervene in real-time if necessary. All of this helps to ensure high customer satisfaction and quality customer support.

Visit Bright Pattern
5.
Eleveo
Eleveo is an AI call center software that is dedicated to making life easier for contact centers. They have a range of solutions that help to simplify complexity, minimize service interruptions, and provide user-friendly software that is secure and scalable. Whether you're recording service requests, outbound sales, financial or healthcare transactions, Eleveo's solutions protect your business by capturing customer experiences and meeting privacy and regulatory requirements.
One of the key features of Eleveo's software is its AI-powered Auto Scheduling tool. Scheduling can be a real headache, and doing it manually is never optimal. But with Eleveo, you can take advantage of cutting-edge AI technology to streamline the process and get the best results. So you'll have more time to spend on other important tasks, like coaching your agents and improving quality.
Another standout feature of Eleveo's software is its speech analytics tool. Basically, it allows managers to gain a nuanced understanding of contact center performance without having to manually collect and analyze a large sample of agent/customer interactions. Instead, speech analytics uses advanced algorithms to transform the nuances of speech and silence into a wealth of intelligence about customer attitudes, agent aptitude, process effectiveness, and trending issues.
According to the vendor, Eleveo's software is used by thousands of customers worldwide and is known for its cloud-native, integrated suite of applications. By integrating AI and automation into your call center, you can make better decisions, reduce costs, and provide a more meaningful experience for your customers. So if you want to elevate your services to the next level, give Eleveo a try and see how they can help you transform your contact center operations.

Visit Eleveo
AI Call Center Software Final Words
In conclusion, choosing the best AI call center software can greatly enhance your business operations and customer experience. By leveraging the power of AI, these software solutions can streamline your call center operations, improve agent productivity, and deliver personalized and efficient customer service.
After extensive research and analysis, we have compiled a list of the top AI call center software available in the market. Each software solution offers unique features and capabilities, catering to different business needs and requirements.
Ultimately, the right AI call center software for your organization will depend on your specific goals, budget, and customer service strategy. As always, we recommend evaluating each option carefully and choosing the software that aligns with your business objectives and customer needs. With the right AI call center software in place, your organization can take its customer service to the next level and achieve greater success.
The post 5 AI Call Center Software For Streamlining Customer Support appeared first on businessolution.org.
* This article was originally published here